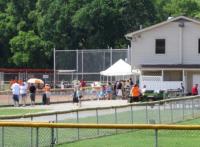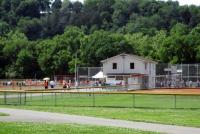 A Place for Girls to Grow and Have Fun
PURPOSES: To promote sportsmanship and family participation, to learn softball skills, and provide a wholesome environment for girls in our community.
LOCATION: The Donelson Civitan Girls Ball Park is located at the end of Downeymeade Drive, across from the Hermitage House Smorgasbord Restaurant.
FEES: A registration fee of $75 for T-NINI includes team shirt, secondary medical insurance, team picture and a trophy. A registration fee of $95 for MIDI and UP includes team shirt, secondary medical insurance, team picture and a trophy and certified umpire for each game. No Refunds !
DATES: Opening day this year is May 4, 2013. Practice may begin April 1, 2013. Each girl will be given a game schedule before opening day, which will enable families to plan vacations, etc.
EQUIPMENT: Team jerseys will be provided. GLOVES are to be provided by the player. Consult your coach if you are unsure of what type glove to use. SHOES, rubber cleated shoes or tennis shoes may be worn. NO STEEL CLEATS PERMITTED!!!!!
DRAFTING PROCEDURES: Following the final sign-up, each girl is assigned a team in a detailed drafting procedure (except T-Nini League). Each player is then notified by her coach as to her team and the date and time of her team meeting. This meeting is very important and should be attended by the player and her parents. Civitan is not responsible for transportation.
VOLUNTEERS NEEDED: Our softball program is run strickly on a volunteer basis and requires many people to assure that it runs smoothly and effciently. Many families find that volunteering on the Park is rewarding and fulfilling as they actively participate with their daughter. Please come forward and offer your services in any area and help our park be the best in can be!
COMMINUTY CONCERNS: The Civitan Ball Park is part of a neighborhood comuunity, please be very courteous to our neighbors by observing the speed limits, letting neighbors in and out of their driveways and please DO NOT LITTER. Trash cans are located throughout the park. USE THEM!!!
Committee
2013 SEASON
PARK DIRECTOR: Bill Lefort parkdirector@donelsoncivitan.org
ASSISTANT PARK DIRECTOR:
UMPIRE LIAISON: Scott Mittler, Amanda Smith
LEAGUE COMMISSIONERS
SENIOR ( 15 – 20 ): Tina Faith
JUNIOR ( 12 – 14 ): Alan Tarrant
MINOR ( 9 – 11 ): Pam White
MINI ( 6 – 8 ): Sonja Storey
T-NINI ( 4 – 5 ): Kathleen Sprandel
Business Location:
Donelson Civitan Girls Softball
37214
Donelson
,
TN