Hibachi Grill and Supreme Buffet
Hibachi Grill and Supreme Buffet is the largest restaurant in Nashville and the surrounding areas. They have a wide selection of favorite foods including Chinese, Japanese, American, Italian and Mexican items on their supreme buffet. There is something for everyone! Their main feature is the Hibachi Style Grill. Customers can select their own meats and vegetables and have it cooked by a professional Hibachi Chef, while watching their meal being prepared in front of them.
Hibachi Grill provides a healthy alternative to the other restaurant varieties in town. They have fresh ingredients, delicious sauces and quick service. Everyday they offer over 250 items on their buffet bar to include all of your traditional Chinese dishes and a few specialty items such as Hibachi Chicken, Beef Tenderloin and Italian Shrimp. Available on their dinner buffet is prime choice rib eye steak. For those individuals who are vegetarian there is a large salad buffet with fresh vegetables, many toppings and a wide variety of dressings including special ranch dressing that is made fresh daily. If you are a sushi fan, Hibachi Grill offers daily a sushi bar with a great selection of freshly prepared sushi.
Hibachi Grill and Supreme Buffet is a family oriented restaurant, offering many kid-friendly food items such as pizza, mashed potatoes and homemade yeast rolls. Let's not forget the spectacular dessert buffet with a wide variety of fresh fruit, pastries and cookies. In addition to the dessert bar, is a large ice cream buffet with 8 different fl avors to choose from.
Like their menu, the customers who come to Hibachi Grill are diverse. During the day they have business professionals looking for a quick lunch. In the evening there are lots of families and on the weekend they have many couples visiting their restaurants. People come from far away to enjoy their eclectic blend of fresh food and their unique atmosphere.
Having a wedding rehearsal, party or business lunch? Just ask about their large private room for special occasions. No matter what your taste, Hibachi Grill is sure to satisfy. After all, satisfi ed customers are what have made their restaurants so popular!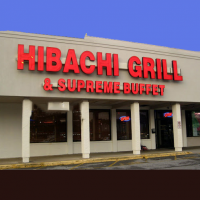 Business Location:
Hibachi Grill and Supreme Buffet
37211
Nashville
,
TN