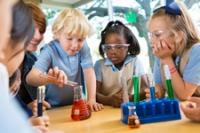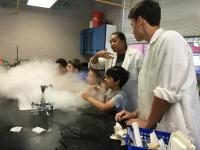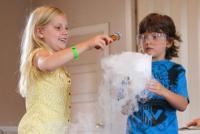 Ages: 5-10
Camp Type: Day Camps full and half days
Camp Focus: Science Camp
Spring Camp Dates: March 16-18 | March 18-20
Summer Camp Dates: See website for dates & locations
Mr. Bond's Science Guys have devoted over 20 years to inspiring kids to love science via their inspirational programs that Make Science Fun, Cool and Easy! The Science Guys' uncanny crowd control makes them a favorite at special events including in-school field trips, assemblies, birthday parties, library and pre-school shows, after school clubs and camps. Any venue where there are children hungry for fun and learning.
Winter, Spring and Summer breaks allow for more comprehensive hands-on science programs where participants focus on one central science theme at each camp.
Mr. Bond's Science Guys'camps inspire a lifelong enthusiasm for science and learning and teach creative problem-solving skills, teamwork, and perseverance in a fun, kid-friendly environment.
The camps are perfect for ages 5-10, offered as half-day or full-day and may include sibling discounts.
Founded by British born Keith Trehy, who attended the American University in Washington, D.C. on a soccer scholarship. Trehy earned a Bachelor of Science in Chemistry, traveled the globe teaching English and Science, then immigrated to Nashville where he operated a "Mad Science" franchise until 2007. Trehy now has his own team of "edutainers" - teachers and entertainers whose mission it is to show kids that science is fun, cool and exciting. The Science Guys of Nashville are Mr. Bond (Trehy), Professor Graybeard (John Wicks), Dr. E! (Kari Donovan), Hydro-Jenna (Jenna Hulsey) and Coco Bond (Fenn Trehy.) Cosmic Carol (Carol Buttenham) is the Managing and Marketing Director.
Neighborhood:
--Downtown
Downtown Nashville
--Berry Hill
--MetroCenter
--SoBro
--The Gulch
--West End / Vandy Area
--Historic Germantown
--North Nashville
--East Nashville
--Brentwood
South of Nashville
--Nolensville
--Spring Hill
--Thompson Station
--Woodbine & Flatrock
--Franklin
--Green Hills
--Hillsboro Village
--LaVergne
Southeast of Nashville
--Smyrna
--Murfreesboro
--Antioch & Priest Lake
East of Nashville
--Donelson & Opryland Area
--Donelson Airport Area
--Old Hickory
--Hermitage
--Mt Juliet
--Lebanon
--Watertown
--Belle Meade
West of Nashville
--Bellevue
--Dickson
--Fairview
--Kingston Springs
--Bordeaux & White's Creek
--Ashland City
Northwest of Nashville
--Clarksville
--Gallatin
North of Nashville
--Goodlettsville
--Portland
--Springfield
--Hendersonville
--Madison