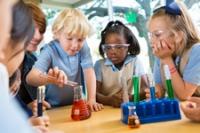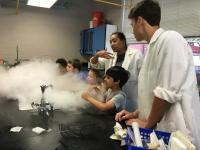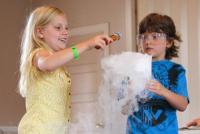 Mr. Bond's Science Guys have devoted over 20 years to inspiring kids to love science via their inspirational hands-on demonstrations that Make Science Fun, Cool and Easy! Our science camps inspire a lifelong enthusiasm for science and learning and teach creative problem-solving skills, teamwork, and perseverance in a fun, kid friendly setting. Summer breaks allow for more comprehensive hands on science programs where kids ages 5-12 focus on one central science theme at each camp.
Themes include Superhero Science, Crazy Chemistry, Saw It On YouTube, Nature, Crime Scene Investigation (CSI), STEAM (Science, Technology, Engineering, Arts, and Math), Rocket To Mars and Mini-Bizarre Pre K Camp.
Some of the activities future scientists at Mr. Bond's camps will do are;
CSI Campers perform DNA analysis and lift fingerprints.
Kids at Rocket to Mars space camp launch rockets, build an eggstranaut reentry craft and a mini rover.
Crazy Chemistry participants learn about the elements on a gigantic periodic table.
STEAM Campers make chemical reactions, play brain games, and observe how science, technology, engineering, arts and math work together.
Superhero Camp explores magnetic powers, web throwing, laser eyes, and ice powers!
Nature camp uses the Giant Dymaxion Map to learn about the biomes, animals, and the earth.
Saw It On YouTube takes science experiment videos from online and makes them happen in real life!
Mini Bizarre Camp gets 4-5 year olds excited about science with weird and wacky experiments.
Summer 2018 Locations
Battle Ground Academy, 336 Ernest Rice Ln, Franklin, TN 37069
DanceEast, 805 Woodland St #314, Nashville, TN 37206
East End Prep, 1460 McGavock Pike, Nashville, TN 37216
Franklin Road Academy, 4700 Franklin Pike, Nashville, TN 37220
WCPR - Franklin, 1120 Hillsboro Rd, Franklin, TN 37064
Gordon Jewish Community Center, 801 Percy Warner Blvd, Nashville, TN 37205
Harding Academy, 170 Windsor Dr, Nashville, TN 37205
Lipscomb Academy, 3901 Granny White Pike, Nashville, TN 37204
Montgomery Bell Academy, 4001 Harding Pike, Nashville, TN 37205
Mt. Juliet Community Center, 1075 Charlie Daniels Pkwy, Mt Juliet, TN 37122
WCPR - Nolensville, 7250 Nolensville Rd, Nolensville, TN 37135
Oak Hill School, 4815 Franklin Pike, Nashville, TN 37220, USA
Overbrook School, 4210 Harding Pike, Nashville, TN 37205
Neighborhood:
--West End / Vandy Area
Downtown Nashville
--East Nashville
--Brentwood
South of Nashville
--Nolensville
--Spring Hill
--Franklin
--Green Hills
--Antioch & Priest Lake
East of Nashville
--Mt Juliet
--Lebanon
--Belle Meade
West of Nashville
--Bellevue