Nashville Bars with Live Music
Nashville Live Music Honky Tonks
Guide to Nashville's best live music venues! The stages range from intimate settings to the legendary loud honky-tonks on Nashville's famous downtown strip of Broadway. Music plays here 7 days a week and all hours of the day and night that why it is called Music City! Come enjoy the live performances from the world's best singer songwriters and musicians you will ever hear. Nashville might be famous for Country Music, however that is not the only genre you can hear in the local bars. Rock, Country, Bluegrass, Jazz and Blues can all be found nightly and the talent will amaze you!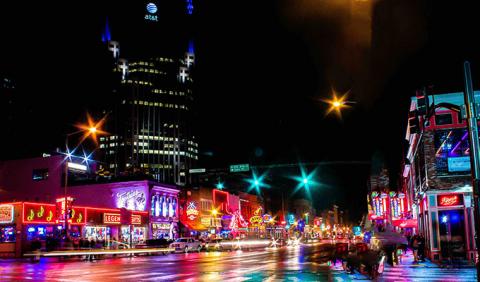 Nashville Live Music
The Listening Room is a venue where you can be entertained and inspired.
The Listening Room
37210
Nashville
,
TN
Home of East Nashville Underground, Comedy Mafia, YES MA'AM, Fringe Festival, Rock shows, Dance parties...
Located in the heart of Music City USA in the historic Lower Broadway District and in the shadow of the Mother Church of Country Music (The Ryman Auditorium), Robert's Western World is Nashville's undisputed home of traditional country music.
Robert's Western World
37203
Nashville
,
TN
Honky Tonk Central is Nashville's latest and greatest honky tonk legendary Lower Broadway. 3 stories (that's right 3 STORIES) of live music, great food and the best time in Nashville!
Anyone who has seen a show at 12th & Porter will probably tell you it is one of the best sounding rooms in Nashville.
The Second Fiddle in downtown Nashville, one step inside this Lower Broadway Honky-Tonk and you know you're in Nashville. This is what you imagined Nashville to be, great country music, live entertainment and friendly people.
Nashville's first fully operational winery, City Winery Nashville produces and serves house wines from grape varieties sourced from the finest vineyards around the world including California, Oregon, Washington State and as far south as Argentina.
The legendary Nashville Palace, once the home of the stars of The Grand Ole Opry and television shows such as Hee Haw and Nashville Now near Opryland, is now owned and operated by Jesse Lee Jones, the proprietor of Robert's Western World, the "Hom
The Nashville Palace
37214
Nashville
,
TN
Ascend Amphitheater located near Riverfront Park in downtown Nashville.
Pages