Nashville Bars with Live Music
Nashville Live Music Honky Tonks
Guide to Nashville's best live music venues! The stages range from intimate settings to the legendary loud honky-tonks on Nashville's famous downtown strip of Broadway. Music plays here 7 days a week and all hours of the day and night that why it is called Music City! Come enjoy the live performances from the world's best singer songwriters and musicians you will ever hear. Nashville might be famous for Country Music, however that is not the only genre you can hear in the local bars. Rock, Country, Bluegrass, Jazz and Blues can all be found nightly and the talent will amaze you!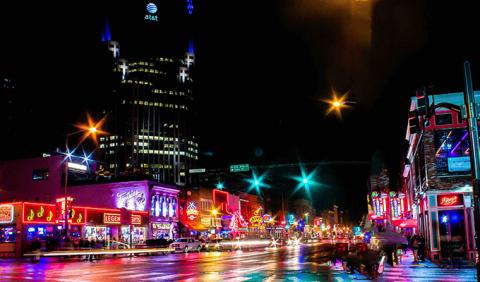 Nashville Live Music
Nashville's first fully operational winery, City Winery Nashville produces and serves house wines from grape varieties sourced from the finest vineyards around the world including California, Oregon, Washington State and as far south as Argentina.
Ascend Amphitheater located near Riverfront Park in downtown Nashville.
The 2015 'SHE HYPE' Summer Music Series is a live music event that takes place monthly from May to August at The Contemporary Music Center (pictures attached) in Brentwood, TN.
The 5 Spot is East Nashville's live music venue and Musician's Hangout in East Nashville. We have multiple acts every Tues, Wed, Thurs, Fri, Sat, Sun... dance party every Monday night
As the home of one of the best music scenes in the country, there's no better place for a Hard Rock Cafe than Music City, U.S.A.
The Valentine Nashville, an original concept from the South Capital Partners restaurant group is an upscale saloon with a 1920s and 30s Prohibition-era vibe.
Originally built in the early 1900s, Marathon Music Works has been restored and adapted to produce a wide array of live music experiences and special events.
Authentic jazz experience in Music City USA.
A Live Music Joint with amazing food & drinks! We feature live music from 11 AM-3 AM every single day! Check us out on historic Lower Broadway!
Pages