Located in the heart of Music City USA in the historic Lower Broadway District and in the shadow of the Mother Church of Country Music (The Ryman Auditorium), Robert's Western World is Nashville's undisputed home of traditional country music.
Jesse Lee Jones is Robert's proprietor and the leader of the house band, Brazilbilly. Jesse Lee and all of the staff and musicians at Robert's share a passion for returning country music to its roots, honoring its legacy and keeping that legacy alive in Nashville!
Robert's Western World is open Monday through Saturday from 11am – 3am and Sundays from 12pm to 3am. On Sunday mornings at 10:30am, everyone is welcome to attend our Sunday Morning Gospel Fellowship. Father Ron Blakely, his family and band host a traditional gospel music revival with prayer and nondenominational spiritual messages.
Live music is always playing, the grill is sizzling all night long and there is never a cover charge. Sit down, enjoy a cold PBR, a tasty burger, and listen to some of the best hillbilly, rockabilly and traditional country music that Nashville has to offer. Y'all come on in!
Roberts Western World is open to all ages until 6 PM everyday, after 6 PM you must be 21.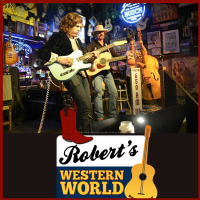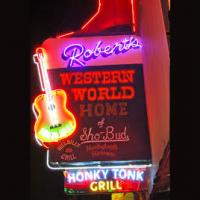 Business Location:
Robert's Western World
37203
Nashville
,
TN
Neighborhood:
--Downtown
Downtown Nashville