Nashville's best FAMILY restaurants
Family Restaurants
One of the nice things about Nashville is that the entire city is basically family friendly. While enjoying the music and sights of Nashville the family needs a place to feed the crew for an affordable price while still getting some great southern cooking.Family Style Restaurants in Nashville and Middle Tennessee can be found all over the city.We have gathered the best family restaurants in Nashville. Enjoy the great southern food while visiting our Music City.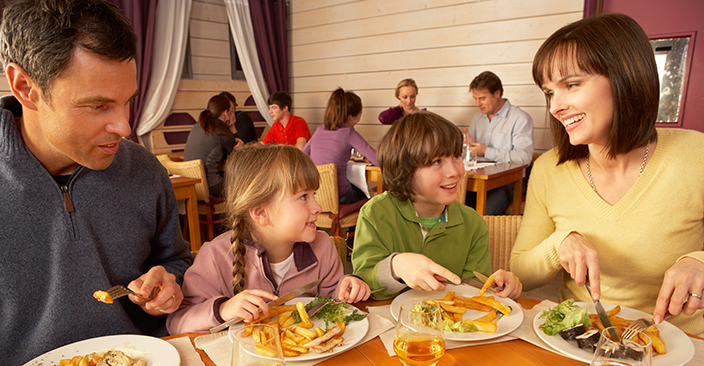 Nashville Kids & Family Restaurant's
Nashville's best FAMILY restaurants
Guests dine while seated around a 200,000-gallon tank, home to a wide variety of fish, sharks, stingrays and more! The bottom of the sea décor and inventive menu offer guests a dining experience like no other.
Aquarium Restaurant
37214
Nashville
,
TN
Live music and Dead Crawfish! Ri'chard's Cafe is the ideal room for an extended set and the chance to give an intimate performance to a crowd that came to dine and hear our writer/artists tell their stories!
Richard's Cafe
37189
Whites Creek
,
TN
Chaffin's Barn was Nashville's first professional theatre, opening March 27, 1967, and bringing the first live theatre tours from New York to the local area.
Chaffin's Barn Dinner Theatre
37221
Nashville
,
TN
Chuck E. Cheese's features age appropriate games, rides, prizes, food and entertainment that children of all ages from toddlers to big kids will love.
Antioch - Hickory Hollow Area
37013
Antioch
,
TN
At Rainforest Cafe, we cater to kids. Our loveable Cha! Cha! and the Wild Bunch are here to make sure children of all ages have a great time while exploring the rainforest.
Rainforest Cafe at Opry Mill Mall
37214
Nashville
,
TN
They have the best pancake breakfast in Nashville! The sweet potato pancakes with homemade cinnamon cream syrup are heavenly!!! Great atmosphere!
At Copper Kettle Cafe & Catering, we believe in doing things the old fashioned way - home cooked culinary delights from around the world and right here at home in Nashville.
--Copper Kettle Cafe Downtown Nashville
37210
Nashville
,
TN
Restaurant, Food, Cafeteria, Southern Food
Swett's Family Restaurant
37209
Nashville
,
TN
The Caribbean Hut has been Nashville's longest and hottest running REGGAE / CARIBBEAN NIGHT CLUB in Nashville for over 13+ yrs. The Caribbean Hut boasts a over 15,000 watt all digital sound system.
Pages