Nashville's best KID FRIENDLY restaurants
When selecting a good Kid Friendly restaurant it is important to find an atmosphere that will keep your kids intrigued / entertained. Many Kid Friendly restaurants also have great attentive staff that keep the kids in mind when taking orders and refilling drinks. Kid's meals, cups with tops and coloring books and games are also a addition to making a restaurant Kid Friendly.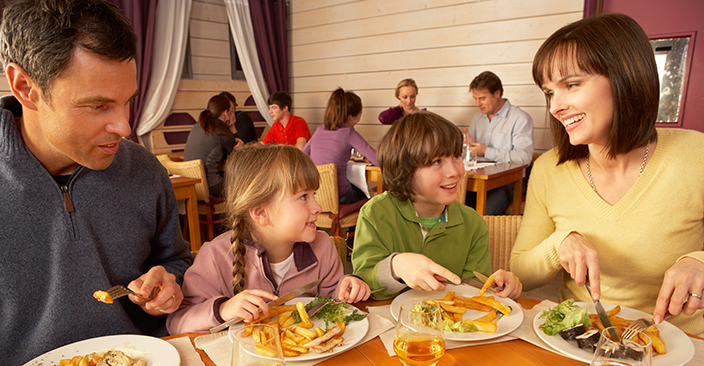 Nashville Kids & Family Restaurant's
Nashville's best KID FRIENDLY restaurants
Chuck E. Cheese's features age appropriate games, rides, prizes, food and entertainment that children of all ages from toddlers to big kids will love.
Antioch - Hickory Hollow Area
37013
Antioch
,
TN
At Rainforest Cafe, we cater to kids. Our loveable Cha! Cha! and the Wild Bunch are here to make sure children of all ages have a great time while exploring the rainforest.
Rainforest Cafe at Opry Mill Mall
37214
Nashville
,
TN
Hi, we are Dena Tripp and Debra Shwetz, the founders of Nothing Bundt Cakes. When we began Nothing Bundt Cakes in Las Vegas in 1997, we wanted nothing more than to please our family and friends.
Nothing Bundt Cakes
37205
Nashville
,
TN
Hibachi Grill and Supreme Buffet is the largest restaurant in Nashville and the surrounding areas. They have a wide selection of favorite foods including Chinese, Japanese, American, Italian and Mexican items on their supreme buffet.
Hibachi Grill and Supreme Buffet
37211
Nashville
,
TN
At Cracker Barrel Our Approach To Food - We cook it up with quality ingredients and genuine hospitality.
Mallory Lane & Baker's Bridge Road
37027
Brentwood
,
TN
Cici's Pizza is known for its endless pizza, pasta, salad, soup and dessert buffet, CiCi's won the Technomic 2014 Consumer's Choice award for best kid-friendly quick service restaurant, and has been listed by Zagat and Parents magazine as a top fa
-- Cici's Pizza on Nolensville Road
37211
Nashville
,
TN
If you would like a true East Nashville icon that is totally Nashville you have to check out I Dream Of Wennie.
There is a great Hot Dog for you with toppings that you can go wild with while enjoying our East Nashville flavor.

Cori's DogHouse was born September 22, 2009 with the intent of
bringing the best of our childhood favorite to everyone. Owner Sean
"Sully" Sullivan's fondest food memory was going to Woolworth's with

Guests dine while seated around a 200,000-gallon tank, home to a wide variety of fish, sharks, stingrays and more! The bottom of the sea décor and inventive menu offer guests a dining experience like no other.
Aquarium Restaurant
37214
Nashville
,
TN
Whether you're hungry for one of our popular breakfast items or looking for lunch, dinner, or late night dining ideas near you, your IHOP® location at 520 Pleasant Grove Rd in Mount Juliet is just around the corner and ready to serve.
IHOP® Family Restaurant
37122
Mount Juliet
,
TN