SIGHTSEEING TOURS & TOUR GUIDES
Nashville Sightseeing Tours: Walking and Driving
Top Nashville Tours and Tour Companies to help you find the best of Nashville sightseeing and attractions. Group and individual sightseeing tours will help you pack in everything Music City has to offer. We recommend booking a tours with the Nashville Touring Companies at the beginning for your trip so you have time to go back and visit sites that most interest you. Come to think of it, we also recommend you make your Nashville Vacation a long one so you can fit in everything to see and do! Enjoy Life Nashville Life!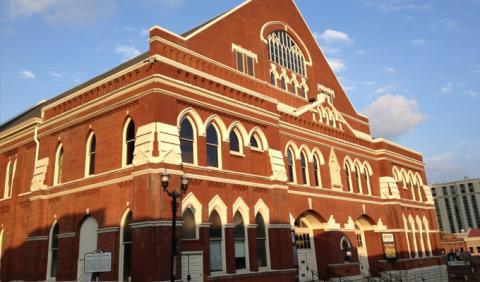 World Famous Ryman Auditorium
You cannot visit Nashville without touring the birthplace of Country Music.
Established in 1892 as the Union Gospel Tabernacle, Ryman Auditorium is a National Historic Landmark and must see for any Nashville visitor. Most famous as the home of the Grand Ole Opry from 1943 — 1974, there is far more to the story of Music City's most recognizable icon. Take a Self-Guided or Guided Backstage tour and discover what makes the Ryman, the "Soul of Nashville."  Tours the Historic Ryman Auditoriam daily from 9 AM to 4 PM.
Nashville Tours: Walking and Driving
Our delight is to please our customers with step-on guide services, including company and senior outings, church groups, reunions, receptive management, CMA Music Festival and military reunions.
Best of Nashville Tours & Events, LLC
2441-Q Old Fort Parkway #358 #358
37128
Murfreesobor
,
TN
Monday thru Saturday - 9 a.m. to 5 p.m.
Sunday – 12 noon to 5 p.m.
Carter House Guided Tours
Belle Meade Plantation offers multiple tours for our visitors. Whether you're touring with a few friends, a group, a classroom, a business or organization, we have planned fun and exciting ways for you to spend your day at Belle Meade.
Belle Meade Plantation
27205
Nashville
,
TN
Phone:
(615) 356-0501 ext. 125
Join us for a four-hour plus experience with knowledgeable, entertaining craft brew lovers. Learn about the history of beer and brewing in Nashville. Learn how to correctly taste and enjoy your favorite craft brews.
River Queen Voyages is downtown Nashville's first and only kayak rental and tour company on the Cumberland River. See the city from a whole new point of view!
Horse-Drawn Carriage Tour of downtown Nashville Tennessee About Us
Click here to see the letter of Thanks from your Tennessee Governor
Join the thousands of visitors who travel through time as they enter the same entrance where the Maneys would have welcomed their guests as you experience over 8,000 square feet of all this historic mansion offers.
Oaklands Historic House
37130
Murfreesboro
,
TN
Schakolad dates back to 1969 with experiences throughout Europe and South America. For the past 13 years, the family owned and operated Franklin location has served up European style chocolates as well as custom and engraved chocolates.
Schakolad Chocolate Factory
443 Cool Springs Boulevard Ste 107
37067
Franklin
,
TN
Party Porch is just hanging out on the back porch that just happens to be off the back of a one-of-a-kind bus traveling through Nashville best downtown areas, Nashville's own Party Porch cruises through The Gulch, down Music Row, past Music City C
Visit the Tennessee home of our 11th US President James K Polk, just south on Nashville in Columbia Tennessee. Guests to the James K.
James K. Polk Home and Museum
38401
Columbia
,
TN
Pages