The Parthenon is the centerpiece of Centennial Park, a large public park on Westend Aveue in downtown Nashville.
Built in 1897 as part of the Tennessee Centennial Exposition The Parthenon and Centennial Park is a must see when visiting Nashville Tennessee. The Parthenon is a full-scale replica of the original Parthenon in Athens. The Athena Parthenos statue is the focus of the Parthenon just as it was in ancient Greece. The building is a full-scale replica of the Athenian original; and the statue of Athena Parthenos within is a reconstruction of the long lost original to careful scholarly standards: she is cuirassed and helmeted, carries a shield on her left arm and a small (6 ft) statue of Nike (Victory) in her right palm, and stands 42 feet high, gilt with more than eight pounds of gold leaf; an equally colossal serpent rears its head between her and her shield.
The Parthenon is also an art museum. The focus of the Parthenon's permanent collection is a group of 63 paintings by 19th and 20th century American artists donated by James M. Cowan. Additional gallery spaces provide a venue for a variety of temporary shows and exhibits.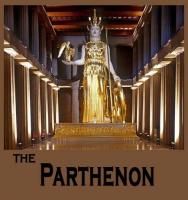 Business Location:
Centennial Park
37203
Nashville
,
TN