Schakolad Chocolate Factory
Schakolad dates back to 1969 with experiences throughout Europe and South America. For the past 13 years, the family owned and operated Franklin location has served up European style chocolates as well as custom and engraved chocolates. The location specializes in wedding and event favors, hosts parties and events, and has chocolate fountains for rent.
Schakolad Chocolate Factory (pronounced shaq-oh-LAD) is one of the truly custom retail chocolate boutiques in the business.
Our chocolates are "Made Fresh on Premises" using a tried and true three-generation European style family recipe that calls for the highest quality ingredients and attention to design detail.
The "Made Fresh on Premises" concept means that chocolate items do not come pre-packaged from Headquarters, rather that items are prepared and dipped at each individual retail location allowing our franchise owners the flexibility to be creative and customize our fresh products to the customer's request.
Tours run at 6 p.m. on Thursdays and Fridays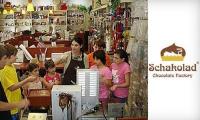 Business Location:
Schakolad Chocolate Factory
443 Cool Springs Boulevard Ste 107
37067
Franklin
,
TN
Neighborhood:
--Franklin
South of Nashville