Shuckle's Corn Maze & Pumpkin Patch
Bring your family and friends and explore Shuckle's Corn Maze. Enjoy the twists and turns as you weave your way through almost six acres of fun-twisting turns! This will be a great way to get some exercise and have fun at the same time. Family oriented fun.
Maze by Flashlight
Lights go out at dark, so bring your flashlight or buy one from us and enjoy the extra challenge of doing the maze in the dark! The latest maze start time is 9:00 PM, so you have time to get through the maze before we close! Check your batteries then come on out with your family and friends to enjoy the maze.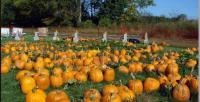 Business Location:
Shuckle's Corn Maze & Pumpkin Patch
Gallatin,
,
TN
Phone:
615-669-MAZE (6293)
Neighborhood:
--Gallatin
North of Nashville