A great family adventure needs to include a trip to the Sudekum Planetarium's Judith Payne Turner Theatre!
Sudekum Planetarium is not always open on Mondays. Please check our schedule for details.
Most daytime planetarium shows require member or paid admission to Adventure Science Center and purchase of a separate ticket for a planetarium show. Arrive at Adventure Science Center after 3:00pm to purchase 3:30pm planetarium tickets without paying general admission. Evening shows on the Second Saturday of each month, and most evening laser shows also do not require Adventure Science Center General Admission.
If you or someone in your party has difficulty climbing stairs, please tell the front desk so they can relay that information to planetarium staff. This will allow us to guide you to the best possible seat. Strollers are not allowed in the planetarium. Please park your stroller at the entrance of the Planetarium, and your stroller will meet you at the exit upstairs after the show. Taking pictures or video during any planetarium program is not permitted. If younger visitors become restless or need a little extra space, parents are welcome to stand in the back with them.
Be courteous of others and please silence your cell phone, camera, or other devices, digital or not, that may make sound or light. These lights and sounds can be very disruptive during the program. Even the blinking lights on cellphone earpieces or children's' shoes can be visible throughout the theater.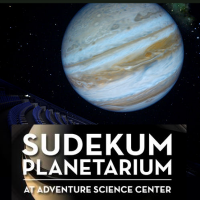 Business Location:
Sudekum Planetarium
37203
Nashville
,
TN
Neighborhood:
--Downtown
Downtown Nashville