A Live Music Joint with amazing food & drinks! We feature live music from 11 AM-3 AM every single day! Check us out on historic Lower Broadway!
Tin Roof is about giving musicians a place to play and a place to hang when they aren't on stage. The tasty food, fun, eclectic environment, community of Regulars and friendly Crew have established the Roof as the place to be for musicians and non-musicians alike. Over the years, our stages have hosted the famous, the should have been famous, and everyone in between.
Our Chefs rock just as much as our musicians! We're cooking up made from scratch, southern inspired 'Better Than Bar Food' paired with the best live music in Nashville. Menu highlights include our Nashville Hot Chicken, Chicken 'n Waffles, Dixie Biscuits, Wings & more!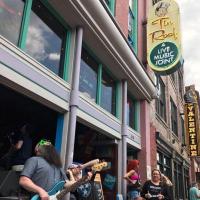 Neighborhood:
--Downtown
Downtown Nashville