Union Station Hotel Nashville
Union Station is the inspired choice when lodging in Nashville TN. We blend historical design with contemporary luxury, along with Music City touches for a Nashville hotel that is both soothing and fascinating. Come experience luxurious Nashville lodging in the heart of downtown Nashville. We're adjacent to the Frist Center for the Visual Arts and situated within blocks of several major attractions, including the Music City Center, the Entertainment District, Music Row, and the State Capital.
CELEBRATE YOUR SPECIAL DAY IN A TIMELESS NASHVILLE WEDDING VENUE
Celebrate your dream wedding in Nashville at downtown's Union Station Hotel. Our beautifully-restored historic hotel offers several elegant settings for your special day, each architecturally unique and visually enchanting. Walk down the aisle surrounded by vaulted stained-glass ceilings and gold-leaf medallions that will leave a lasting impression on your guests. Whether you wish to celebrate with several hundred guests in our expansive grand lobby, or arrange an intimate wedding dinner a more secluded setting, we have the ideal Nashville wedding venue to begin your happily ever after.
Grand Lobby
With its 65-foot-high stained glass ceiling, bas-relief angels, and gold-leaf medallions, our stunning grand lobby can accommodate up to 500 guests and provides a picture-perfect setting for your wedding celebration.
Azalean Room
Magnificent stone archways create a warm and welcoming ambiance for your special day. This jaw-dropping room with original floor tiles can accommodate up to 200 guests for a reception setting.
Dixie Flyer / Hummingbird Rooms
Perfectly positioned off of the hotel's grand lobby, The Dixie Flyer or Hummingbird room can accommodate up to 200 guests in a reception setting and boasts meticulous, original stained glass windows with 22-foot ceilings.
Veranda
Our intimate outdoor terrace is the perfect option for ceremonies, banquets or receptions.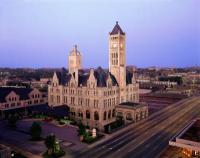 Neighborhood:
--Downtown
Downtown Nashville