Walkin Nashville Music City Legends Tour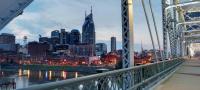 Hank, Johnny, Chet, Patsy, George, Tammy, Conway, Loretta, Dolly, Merle, Willie... there was a time when country music was on a first name basis with its fans. A time when the streets of downtown Nashville were alive with the sound of backroom guitar pulls, midnight jamborees and the Grand Ole Opry.
Now you can recapture the magic of this golden era on the Walkin' Nashville Music City Legends Tour. Packed with history, fun trivia and behind-the-scenes anecdotes about your favorite country legends, this two-hour walking tour is designed for music lovers who want to know the real story of how Nashville came to be called Music City.
You'll see:
- Printer's Alley
- Ryman Auditorium
- Tootsie's Orchid Lounge
- Ernest Tubb Record Shop
- Hatch Show Print
- Country Music Hall of Fame
As well as the former sites of long-lost treasures like:
- Skull's Rainbow Room
- The Maxwell House Hotel
- Ernie's Record Mart
- Sho-Bud Steel Guitar Company
You haven't seen Nashville, until you've taken the Walkin' Nashville tour!
Tour Details:
Time: 10:30 AM Tuesday, Thursday - Saturday (Please arrive 10-15 minutes early to check in)
Starts: Chet Atkins Statue at 5th & Union in front of Bank Of America Plaza
Ends: Hatch Show Print
Time: Approx. 120 minutes
Walking distance: Approx. 3/4 mile
Your friendly guide is Grammy-nominated music journalist Bill DeMain, a writer with over twenty years experience who's contributed to publications such as MOJO, Classic Rock and Entertainment Weekly, and published four books, including the popular humor collection, The Sterling Huck Letters.
DeMain has interviewed an A-Z of pop and country music superstars, including Dolly Parton, Ray Charles, Merle Haggard, Paul Simon, Billy Joel, Loretta Lynn, David Bowie, Smokey Robinson, Kris Kristofferson, Sheryl Crow, Stevie Nicks, Elvis Costello, Gregg Allman, Al Green, The Bee Gees and Keith Urban.
An acclaimed songwriter, DeMain has had songs covered by such artists as Marshall Crenshaw, Kim Richey and David Mead. He's also one half of the internationally acclaimed pop duo Swan Dive, who've appeared on Late Night With Conan O' Brien, shared the stage with such artists as Norah Jones, and twice won Best Pop Album in the Independent Music Awards. DeMain's songs have appeared in TV shows such as Sons of Anarchy, Private Practice and The L Word, as well as in commercials for Laneige, Samsung and Sky Mobile.
A long-time Nashville resident, DeMain will take you through decades of musical history, from classic country and western to R & B to rock 'n' roll, for a one-of-a-kind tour experience that will make your visit to Nashville an unforgettable one.