The Wild Cow serves vegetarian & vegan fare in a fun, casual environment in the heart of East Nashville.
We opened the Wild Cow to provide delicious, cruelty-free, healthy food to the people of Middle Tennessee. Nearly all of our food is purchased in it's whole form, meaning we make almost all of our own sauces, dressings, soup stocks, etc. This means that we can name every ingredient in the food we serve!
Most of our produce is grown locally and much of it is organic. We are proud to not have a microwave or freezer.
It is our goal to bring people together for the love of good food in a fun & relaxed environment, while supporting our community and organizations that promote our philosophies.
We have a rotating Charity of the Month. We donate 10% of our sales from the first Thursday of each month to that Charity.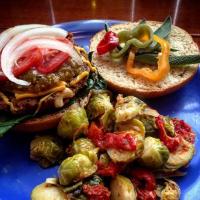 Neighborhood:
--East Nashville
Downtown Nashville