Nashville Leisure Time: Arts and Painting Classes
Art & Painting Classes in Nashville Tennessee
What do you do for Rest and Recreation in and around Nashville? You can't imagine the fun you will have leaving to paint. This is a great activity for the entire family or for girls night out. Don't take yourself to seriously the idea here is to find a hobby that can be fun and distract from your daily activities. As far as a great leisure activity this one is top rated.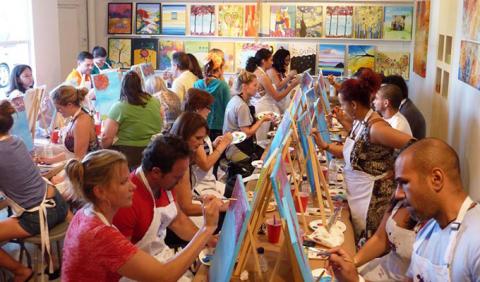 Art & Painting Classes
The Firstlight Arts Academy offers Art Instruction for Enthusiastic Kid's, Teens and Adults. 3 things that are taught 1) teach to the head: Insights 2) teach to the hand: Techniques 3) teach to the heart: Expression!
Firstlight Arts Academy
1710 General George Patton Dr.
37027
Brentwood
,
TN
The Thirsty Brush offers super fun painting classes in Nashville area bars and restaurants. They then we donate 10% to arts and education initiatives. They also throw great painting parties.
Sips n Strokes offers painting classes for those that want to reach their inner artist. Bring your favorite beverage (acoholic or not) and learn how to paint through easy step-by-step artist lead instructions.
Paint Nite® is a new concept of blending two timeless pastimes, artistic painting and drinking cocktails, as a way to draw patrons into local pubs on a slow night with a unique opportunity to socialize and be creative.
Franklin Glassblowing Studio
1143 Columbia Avenue Suite A10
37064
Franklin
,
TN
Dabble Studio is happy to host your special event! Our venue is the perfect place for any party or gathering you would like to host, whether you include a cooking class, painting class, or one of our typical events or not!
Martin ArtQuest's offers thirty incredible hands-on stations to inspire visitors to become artists as they learn about art.
Martin ArtQuest at Frist Center
37203
Nashville
,
TN
Ages: 6-18
Camp Type: Day Camp
Camp Focus: Drama Camp
Summer Camp Dates: 6/10-7/19
We provide classes in aerial silks, circus arts, dance, visual arts, and theater arts. Summer camps, parties, weekly lessons, and a homeschool performing arts academy are all part of our many offerings.
Expression City
1724A General George Patton Drive
37027
Brentwood
,
TN