The Hermitage home of President Andrew Jackson
The Hermitage is a historical plantation and museum was home to Andrew Jackson the 7th President to the United States. Since opening as a museum in 1889, approximately 16 million people from around the world have toured the Hermitage mansion, which historians consider the best-preserved early U.S. presidential home. An award- winning interior restoration was completed during the years 1989-1997. Today, original furniture, wallpaper, and family possessions allow visitors a glimpse of the Jackson family's lives in the years of Andrew Jackson's retirement.
Hermitage Garden
The Hermitage is one of the largest open spaces in the urban Nashville, Tennessee area. The Hermitage includes 1120 acres, thirty-two historic buildings, dozens of archaeological sites, two springs, a formal garden, a vegetable garden, and a cotton patch. You will enjoy the experience of visiting many of these sites on your visit.
Andrew Jackson hired a Philadelphia-based English gardener, William Frost, in 1819 at the recommendation of a friend to plan and lay out the garden at The Hermitage. The new brick Hermitage mansion was going up and the Jacksons needed a new garden. The garden was designed as a typical four-square English garden common in Europe since the Middle Ages, consisting of four quadrants and circular center beds. These were planted with flowers, herbs, shrubs, vines, vegetables, berries, and fruit trees. Very few early descriptions of the garden at The Hermitage are recorded, for unlike some of his presidential predecessors, Andrew Jackson was apparently little interested in horticulture. However, early visitors noted that the garden was Rachel Jackson's special interest. In 1825, Rachel purchased flowering plants including geraniums, daisies, wallflowers, and polyanthus from Cincinnati. "I never saw anyone more enthusiastically fond of flowers than Rachel," remarked one early visitor.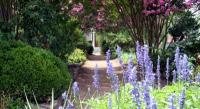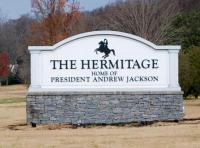 Neighborhood:
--Hermitage
East of Nashville