Guide to Live Music in Nashville
Finding Live Music in Nashville Tennessee
Looking for Live Music in Nashville? Start in Downtown Nashville where live music is in every bar and honky-tonk down Nashville's famous strip of 2nd Avenue and Broadway, There are bars for drinking, bars for dancing, and bars for eating. Everything you would want from bright neon lights to more dimly lit ambient acoustic places can be found in Nashville. Printers Alley is full of clubs with the live music. One of the unique things about Nashville is the abundance of amazing live music.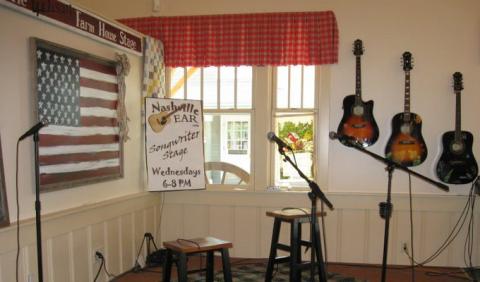 Songwriter Stages
Nashville is the perfect place to hear professional songwriters sing both their old and new songs.
Live Music Everywhere!
Many bars and restaurants have live music venues for their customers 24/7. The Grand Ole Opry can be seen live every Friday and Saturday evening at the Opry House, The Bridgestone Arena has huge music star events and hundreds of shows year round. The city of Nashville holds many events including live music concerts at the Riverfront Park for residents and tourist to enjoy in the spring and summer. Nashville is a town that has many live music events going on each and every weekend. If you like live music you have found the right town Music City.
Nashville Live Music
Founded by Kix Brooks, Arrington Vineyards is located 25 minutes south of Nashville among the beautiful hills of Arrington, Tennessee.
The best bands, food and fun from street to the rooftop! The biggest baddest Honky Tonk on Broadway! When you visit Kid Rock's Honky Tonk you should take the time and walk through the whole place.
Kid Rock's Big Honky Tonk and Rock n' Roll Steakhouse
37201
Nashville
,
TN
One of the city's most famous honky tonks, Tootsie's Orchid Lounge is full of historic memorabilia and hosts some of the best live musical acts in Nashville. Check out their rooftop deck to view downtown Nashville.
Tootsies World Famous Orchid Lounge
37203
Nashville
,
TN
The Bluebird Café is one of the world's preeminent listening rooms and the venue has gained worldwide recognition as a songwriter's performance space where the "heroes behind the hits" perform their own songs; songs that have been recorded by char
Located downtown Nashville, in Historic Printers Alley, BSBBB is legendary for the best in live blues. Anyone who's anyone has jammed on our stage, and locals and visitors alike all know if you want real blues, this is the place to come!
Bourbon Street Blues & Boogie Bar
37201
Nashville
,
TN
Located in the heart of the very trendy Gulch warehouse district, Sambuca in Nashville is a rockin' supper club that features live music, an eclectic European design and a roof top patio that overlooks the Nashville Skyline.
Sambuca Restaurants
37203
Nashville
,
TN
At Calypso, you can satisfy your hunger while keeping your wellness goals! One Black Bean Salad provides 60% of your daily Vitamin C and fiber needs, 168% Vitamin C, and a whopping 43 grams of healthy, lean protein!
Berry Hill Location
37204
Nashville
,
TN
Check out Live Music in one of Nashville's best music venues. You can catch many very famous musicians here depending on who is in town recording.
3rd and Lindsley Bar and Grill
37210
Nashville
,
TN
Douglas Corner has moved to a new location 15 minutes from Downtown Nashville to its new home at 30 Hillenglade Drive Nashville, TN 37207. We offer hosting for private parties, celebrations, audio and video recording.
DOUGLAS CORNER CAFE
37027
Nashville
,
TN
Pages
Live Music from NashvilleEar.com
Nashville Ear - it's all about the song!
Nashville Ear where songwriters come to have their songs promoted to the world. With thousands of online videos many Nashville songwriters wait to be features on stages with Jeremy Dean to get in front of an online audience. Many Nashville Ear songwriters have been seen on The Voice. Follow this link to hear and see more on their shows.