Nashville Art Galleries & Museums
Art Galleries & Museums
Nashville's Art Galleries & Museums are at the center of Music City's cultural life. On your visit be sure to check out these locations and follow the listings to learn more about each Museums in Nashville and Middle Tennessee. The exhibits change often so check this websites to see the current shows.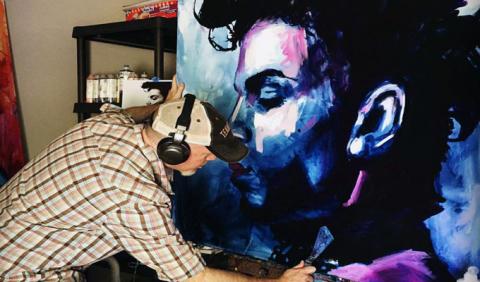 Local Nashville artist Roy Laws painting his vision of Prince in Purple Rain soon after hearing of the legendary artist death. Roy is well known around Nashville for his paintings of famous musicians and guitars. Commission work and Prints are available on Roy's website.
Nashville Art Galleries and Museums
The Lane Motor Museum in Nashville opened its doors in 2003 with a collection of 80 historic vehicles. There currently are 150 on display and the largest collection of European cars plus unique vehicles.
Lane Motor Museum
37210
Nashville
,
TN
The all-volunteer crew at the Tennessee Central Railway Museum hosts round-trip train rides from Nashville to locations east including Lebanon, Watertown, Cookeville, and Monterey.
Tennessee Central Railway Museum
37210
Nashville
,
TN
Cheekwood Museum and Gardens
37205
Nashville
,
TN
The Parthenon is the centerpiece of Centennial Park, a large public park on Westend Aveue in downtown Nashville.
Centennial Park
37203
Nashville
,
TN
When you step into the Country Music Hall of Fame and Museum, you will be embarking on a trip through decades of country music history in this architecturally-stunning building.
Country Music Hall of Fame and Museum
37203
Nashville
,
TN
Nashville's newest attraction comes from Mike Wolfe's - Amercian Pickers TV Show. Antique Archaeology is located just a few blocks away from downtown Nashville, you can find it in the old Marathon Automobile car factory dated
Antique Archaeology
37203
Nashville
,
TN
Downtown Nashville museum dedicated to the life and music career of the late "Man in Black" featuring 18,000 square feet of memorabilia, interactive exhibits and a 250-seat auditorium.
The mission of Rippavilla Plantation, Incorporated is to preserve, restore and interpret the buildings and grounds of the Cheairs family utilizing the highest standards of scholarship, craftsmanship and preservation in order to create a site that
Rippavilla Plantation
37174
Spring Hill
,
TN
The Frist Center for the Visual Arts is a nonprofit art-exhibition center, with approximately 24,000 square feet of gallery space, dedicated to presenting the finest visual art from local, state and regional artists, as well as major U.S.
Frist Center for the Visual Arts
37203
Nashville
,
TN
The Hermitage is a historical plantation and museum was home to Andrew Jackson the 7th President to the United States.
Historic Travellers Rest Plantation & Museum is one of the most unique historic homes in the Nashville, Tennessee area. The home, built by Judge John Overton was completed in 1799 - just three years after Tennessee gained statehood.

Historic Travellers Rest Plantation & Museum
37220
Nashville
,
TN
Located on Fifth Avenue of the Arts, The Rymer Gallery is one of the largest contemporary galleries in the heart of Nashville's arts district.
The Rymer Gallery
233 Rep. John Lewis Way N
37219
Nashville
,
TN
Tinney Contemporary is a Nashville based art gallery specializing in collectible modern art by established local, regional, national, and international artists.
Tinney Contemporary
37219
Nashville
,
TN
East Nashville's Art and Invention Gallery in the Art Central Location of 5 Points in East Nashville you will find custom furnishings, metalwork, commercial fixtures and design work to whimsical wooden toys and crafts.
East Nashville's Art and Invention Gallery
37206
Nashville
,
TN
The new Tennessee State Museum that sits on the corner of Rosa L. Parks Blvd.
Tennessee State Museum
37208
Nashville
,
TN
FINE TRADITIONAL AND CONTEMPORARY OIL PAINTINGS by Everett Raymond Kinstler, Michael Shane Neal, Dawn E Whitelaw, Paula Frizbe, Mark Lague, Howard Carr, Henry Barnes, Dean Shelton, Sabre Esler, Michael Ethridge, Dwayne Warwick, Gayle Levee, Loryn
Richland Fine Art Inc.
4009 Hillsboro Pike, suite 203
37215
Nashville
,
TN
Specializing in the Sale of Original 19th & 20th Century American Paintings, Folk Art, Furniture; & Fine Period Jewelry from the 1890's through the 1960's, with an emphasis on Art Deco, Art Moderne & Retro Examples.
Williams American Art & Antiques
37215
Nashville
,
TN
ABOUT THE GALLERY. Artist Bill Brimm opened Bryant Gallery in May of 2011 located in the 5 Points area of Historic East Nashville.
THE BRYANT GALLERY
37206
Nashville
,
TN
Pages