Nashville Historic Homes and Locations Guide
Nashville and middle Tennessee is full or rich American History, from the Antebellum Homes to Civil War battlegrounds. Just walk the streets downtown and enjoy the ornate architecture of buildings that date back to late 19th century.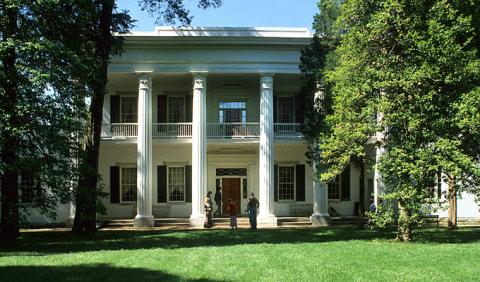 The Hermitage - Home of Andrew Jackson
Visit the historic home of the 7th US President Andrew Jackson - The Hermitage. Learn about his life and how he influenced our political structure. There is also a great love story with him and his wife Rachel. The historic home and grounds are a must for history buffs as well as school age children.
Nashville Historic Homes & Locations
Listed on the National Register of Historic Homes, the Grassmere Historic Home, built in 1810, is the centerpiece of the Grassmere Historic Farm and is open seasonally for guided tours.
Visitors to the historic Sam Davis Home in Smyrna will see the home much as it was when Sam lived there. The home, built around 1810 by Moses Ridley and renovated in 1850 by the Davis family, contains over one hundred original family pieces.
Belle Meade Plantation offers multiple tours for our visitors. Whether you're touring with a few friends, a group, a classroom, a business or organization, we have planned fun and exciting ways for you to spend your day at Belle Meade.
Belle Meade Plantation
27205
Nashville
,
TN
Phone:
(615) 356-0501 ext. 125
Downtown Franklin, Tennessee is a vibrant blend of historic preservation and modern sophistication.
Join the thousands of visitors who travel through time as they enter the same entrance where the Maneys would have welcomed their guests as you experience over 8,000 square feet of all this historic mansion offers.
Oaklands Historic House
37130
Murfreesboro
,
TN
Working at The Mill is an exciting opportunity for creative offices.

The Mill at Lebanon
37087
Lebanon
,
TN
Two Rivers, one of the earliest and best preserved of the early Italianate houses in Middle Tennessee, was part of an 1100-acre plantation located on fertile, rolling land between the Stones and Cumberland Rivers.
Two Rivers Mansion
37214
Nashville
,
TN
The John Seigenthaler Pedestrian Bridge, formerly the Shelby Street Pedestrian Bridge, connects downtown Nashville to the residential suburbs of East Nashville. It was built from 1907-09 and was originally named the Sparkman Street Bridge.
Opened in 1822, the City Cemetery is the oldest continuously operated public cemetery in Nashville. The Nashville City Cemetery in an outstanding outdoor museum focusing on the history of Middle Tennessee.

Visit the Tennessee home of our 11th US President James K Polk, just south on Nashville in Columbia Tennessee. Guests to the James K.
James K. Polk Home and Museum
38401
Columbia
,
TN
During our summer hours (May 24 to Sept 30) The Buchanan Log House is open for tours on Tuesdays and Thursdays from 10:00 – 2:00 and on the 4th Sunday from 1:00 – 5:00. for a small fee, no appointment necessary.
Buchanan Log House and Addison Museum
37214
Nashville
,
TN
It is the mission of the Fort Negley Visitors Center to promote a greater understanding of the social, political, and military forces central to Nashville and Middle Tennessee during the era of sectional conflict in American history.
Fort Negley Visitors Center and Park
37203
Nashville
,
TN
Fiddlers Grove Historical Village is located on the grounds of the James E. Ward Agricultural Center in Lebanon, Tennessee.
Fiddlers Grove Historical Village
945 E Baddour Pkwy (23.61 mi)
37087
Lebanon
,
TN
Pages