Nashville Historic Homes and Locations Guide
Nashville and middle Tennessee is full or rich American History, from the Antebellum Homes to Civil War battlegrounds. Just walk the streets downtown and enjoy the ornate architecture of buildings that date back to late 19th century.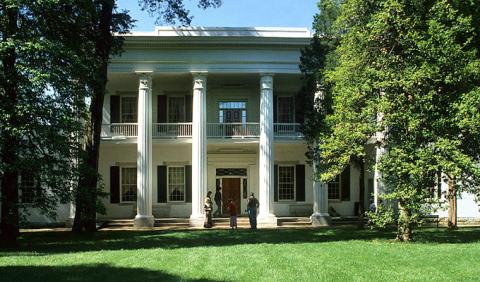 The Hermitage - Home of Andrew Jackson
Visit the historic home of the 7th US President Andrew Jackson - The Hermitage. Learn about his life and how he influenced our political structure. There is also a great love story with him and his wife Rachel. The historic home and grounds are a must for history buffs as well as school age children.
Nashville Historic Homes & Locations
The all-volunteer crew at the Tennessee Central Railway Museum hosts round-trip train rides from Nashville to locations east including Lebanon, Watertown, Cookeville, and Monterey.
Tennessee Central Railway Museum
37210
Nashville
,
TN
The Lane Motor Museum in Nashville opened its doors in 2003 with a collection of 80 historic vehicles. There currently are 150 on display and the largest collection of European cars plus unique vehicles.
Lane Motor Museum
37210
Nashville
,
TN
Cheekwood Museum and Gardens
37205
Nashville
,
TN
Located just one mile south of Downtown Nashville and Music Row, The Timothy Demonbreun House is Nashville, Tennessee's best and only world-class Bed and Breakfast and private venue which can easily accommodate eighty-five (85) guests for special
Timothy Demonbreun House
37204
Nashville
,
TN
From two American Presidents to socialites at soirées, Historic Carnton Plantation has been a gathering place for ladies and gentlemen over the last two centuries.
Carnton Plantation
1345 Eastern Flank Circle
37064
Franklin
,
TN
The mission of Rippavilla Plantation, Incorporated is to preserve, restore and interpret the buildings and grounds of the Cheairs family utilizing the highest standards of scholarship, craftsmanship and preservation in order to create a site that
Rippavilla Plantation
37174
Spring Hill
,
TN
The Hermitage is a historical plantation and museum was home to Andrew Jackson the 7th President to the United States.
Historic Travellers Rest Plantation & Museum is one of the most unique historic homes in the Nashville, Tennessee area. The home, built by Judge John Overton was completed in 1799 - just three years after Tennessee gained statehood.

Historic Travellers Rest Plantation & Museum
37220
Nashville
,
TN
Established in 1892 as the Union Gospel Tabernacle, Ryman Auditorium is a National Historic Landmark. Most famous as the home of the Grand Ole Opry from 1943 —1974, there is far more to the story of Music City's most recognizable icon.
Ryman Auditorium
37219
Nashville
,
TN
The new Tennessee State Museum that sits on the corner of Rosa L. Parks Blvd.
Tennessee State Museum
37208
Nashville
,
TN
Nashville's Bicentennial Mall State Park is a beautiful park full of Tennessee history. Located directly behind the state capital building and next to the Nashville farmers market there is lots of parking and often events.

Bicentennial Mall State Park
37243
Nashville
,
TN
Cragfont, located in Castalian Springs, Sumner County, Tennessee, was the home of James Winchester. Construction was started in 1798 and completed in 1802 by artisans from his home state of Maryland.
Historic Cragfont
37031
Castalian Springs
,
TN
Welcome to the world of the 18th century viewed through the life of General Daniel Smith, surveyor, Revolutionary War hero, U.S. Senator, Indian Negotiator and original owner and builder of his family home: Historic Rock Castle!
Historic Rock Castle
37075
Hendersonville
,
TN
Belle Meade is dedicated to the preservation of Tennessee's history, architecture, hospitality, and equestrian legacy.
Belle Meade Plantation
27205
Nashville
,
TN
Phone:
(615) 356-0501 ext. 125
Downtown Franklin, Tennessee is a vibrant blend of historic preservation and modern sophistication.
Working at The Mill is an exciting opportunity for creative offices.

The Mill at Lebanon
37087
Lebanon
,
TN
Two Rivers, one of the earliest and best preserved of the early Italianate houses in Middle Tennessee, was part of an 1100-acre plantation located on fertile, rolling land between the Stones and Cumberland Rivers.
Two Rivers Mansion
37214
Nashville
,
TN
The John Seigenthaler Pedestrian Bridge, formerly the Shelby Street Pedestrian Bridge, connects downtown Nashville to the residential suburbs of East Nashville. It was built from 1907-09 and was originally named the Sparkman Street Bridge.
Pages