This place may be in a new location, but owner Aqui Simpson is a vet of this unique incendiary treat. The Nashville native and Tennessee State University grad says she loves it so much that she ate at Prince's nearly every day until a cousin got her cooking her own. Simpson's top-secret recipe engages varying amounts of cayenne and paprika, depending on the level of heat requested.
She offers 100° for mild; 200° for medium; 400° for hot. Daily sides are crinkle-cut fries (which get a dusting of paprika and a whisper of cayenne), baked beans (so sweet they nearly qualify as candy), coleslaw and potato salad. Simpson's chicken is similar to Prince's in flavor, though the crust is a little thicker. The chief difference is that 400° is deep-fried, not skillet-fried. The 200° version is feisty, with an elevated level of heat that leaves no doubt you're eating classic hot chicken; the 400° was surprisingly manageable, offering a real kick on the tongue but without the lingering, impossible-to-dissipate burn that the hottest versions sometimes deliver.
Still, unless living on the edge is your style, the 200° has a better, more enjoyable flavor. Jumbo-sized bone-in pork chops also serve as a fine vehicle for the 400° treatment. Fat wings are four to an order and pack a punch.
Hours: Tuesday – Friday 11-7 | Saturday Noon-5 PM | CLOSED Sunday & Monday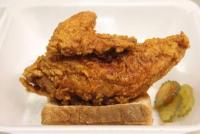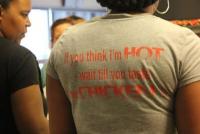 Business Location:
400 Degrees Hot Chicken
37218
Nashville
,
TN