Hear Live Country Music in Nashville
Where to hear the best Live Country Music in Nashville
Nashville Live Music Guide - Where to find the BEST LIVE COUNTRY MUSIC venues, bars, honky-tonks and restaurants in Music City and all of middle Tennessee. There are many thoughts on where the Best Live Country Music may be in Nashville. Some say go the the world famous Bluebird Cafe others say The Listening Room still others will name 50 clubs that have live music every evening live onstage for free to the public in Nashville. All these venues are found in Nashville the MusicCity that has no equal in hosting and promoting songwriters & performers. You won't find a city with more live music than Nashville. Here you will find a large grouping of the best places to find live music in Nashville.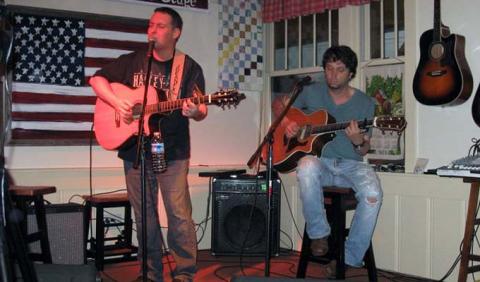 Best Venues for Live County Music in Nashville
Nashville is home to Country Musics most famous stages from the Grand Ole Opry and Tootsies to the Bluebird Cafe. Music City is packed full with aspiring songwriters and Country Music artist that you will be thrilled to see in live performances. One reason Nashville has the best country music venues is that there are so many songwriters and performers living in Nashville. Many of the live performances you will see in Nashville are from up and coming country music stars in the making.From the downtown honky-tonks on Nashville's legendary Broadway strip to every community in Middle Tennessee Nashville Life list the best in Country Music venues here.
Live Country Music in Nashville
One of the city's most famous honky tonks, Tootsie's Orchid Lounge is full of historic memorabilia and hosts some of the best live musical acts in Nashville. Check out their rooftop deck to view downtown Nashville.
Tootsies World Famous Orchid Lounge
37203
Nashville
,
TN
The Bluebird Café is one of the world's preeminent listening rooms and the venue has gained worldwide recognition as a songwriter's performance space where the "heroes behind the hits" perform their own songs; songs that have been recorded by char
The Music City Center is a convention complex located in downtown Nashville, Tennessee, United States.The Music City Center is the perfect venue for any size event, from a small, private dinner to a large-scale convention.
Welcome to Swingin' Doors Saloon! We are located in beautiful and historic downtown Nashville Tennessee right off of Broadway at 111 4th Ave S (right behind the Hilton).
The Listening Room is a venue where you can be entertained and inspired.
The Listening Room
37210
Nashville
,
TN
Located in the heart of Music City USA in the historic Lower Broadway District and in the shadow of the Mother Church of Country Music (The Ryman Auditorium), Robert's Western World is Nashville's undisputed home of traditional country music.
Robert's Western World
37203
Nashville
,
TN
The Second Fiddle in downtown Nashville, one step inside this Lower Broadway Honky-Tonk and you know you're in Nashville. This is what you imagined Nashville to be, great country music, live entertainment and friendly people.
Ascend Amphitheater located near Riverfront Park in downtown Nashville.
As the home of one of the best music scenes in the country, there's no better place for a Hard Rock Cafe than Music City, U.S.A.
The Valentine Nashville, an original concept from the South Capital Partners restaurant group is an upscale saloon with a 1920s and 30s Prohibition-era vibe.
Pages