Best Live Songwriter Music Stages in Nashville
Live Songwriter Music Stages in Nashville
There is a special magic in the air when you find yourself in a totally silent room with 100 other music lovers listening to the enchanting lyrics of a songwriter at the Bluebird Cafe. Nashville has dozens of clubs and bars that show that respect for music 7 nights a week. If you love music you will be amazed by seeing (and hearing) Nashville's Songwriters in Live Performances!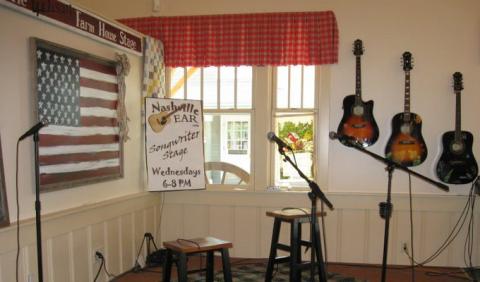 Songwriter Stages
Nashville is the perfect place to hear professional songwriters sing both their old and new songs.
Nashville Songwriter Rounds
Nashville Songwriter Rounds or Songwriter Circles are a Nashville songwriting tradition. A Round is where a group of 3 or 4 songwriters share a single stage. They rotate down the line first sharing quick stories about how the song was written and other songwriters that contributed to the song. These people are some amazing storytellers - that's why they say it is all about the song. Some of the biggest names in music have been known to particpate in Nashville Songwriter Rounds. Generally these stages are acoustics and the artist will amaze you with their voice and lyrics and overall talent. Sit back and enjoy why this city is called Music City!
Live Songwriter Stages Music in Nashville
Founded by Kix Brooks, Arrington Vineyards is located 25 minutes south of Nashville among the beautiful hills of Arrington, Tennessee.
One of the city's most famous honky tonks, Tootsie's Orchid Lounge is full of historic memorabilia and hosts some of the best live musical acts in Nashville. Check out their rooftop deck to view downtown Nashville.
Tootsies World Famous Orchid Lounge
37203
Nashville
,
TN
The Bluebird Café is one of the world's preeminent listening rooms and the venue has gained worldwide recognition as a songwriter's performance space where the "heroes behind the hits" perform their own songs; songs that have been recorded by char
Smack dab in the middle of Nashville's Honky-Tonk Highway on Lower Broadway, Layla's is in a section of downtown famous for live country music.
PUCKETT'S GROCERY & RESTAURANT
Where the main ingredients are Real Food, Real People and Real Atmosphere
Puckett's Grocery and Live music venue
Franklin
,
TN
The Listening Room is a venue where you can be entertained and inspired.
The Listening Room
37210
Nashville
,
TN
A BEER JOINT WITH A MUSIC PROBLEM.

Twelve Keys Saloon
37076
Hermitage
,
TN
Nashville's Top Songwriter Stages
On any given day you can find between 20 and 40 live performances of songwriters in Nashville. From the Bluebird Cafe and the Pavilion Coffee House to the Listening Room we have all the best places to actually hear our best songwriters in Nashville. NashvilleLife.com list the best in Live Songwriter Music Stage venues. Finding a songwriter open mic night or a pay at the door event is really easy in Nashville. Just go outside, listen and follow the music. If you are a songwriter and want to build a network of songwriters Nashville is your town. Move here and experience the dream. It is easier than you think. It is more fun than you anticipate. More rewarding than anything else in your life.
Enjoy a sample of Nashville's Music Scene
Thanks to Nashville Ear for allowing us to give you a sample of one of the unbelievable Nashville songwriters you will see and hear around town. The Nashville Ear was out listening to some of Nashville's songwriters at the Bluebird Cafe when we heard Daniel Ethridge. Wow, what a talented guy. He has been playing around town and staying under our radar until he played the Bluebird. He is very talented and has a smooth mellow delivery and a great stage presence. His mastery of the guitar is apparent and with his smooth vocal delivery he is as smooth as Jack Daniels with cool spring water. His songs are as lyrically pleasing as they are deep and telling. We added a video of Daniel Ethridge below from one of his Bluebird appearances recently.
Daniel Ethridge entertaining at the Bluebird Cafe