Deck Designs of Brentwood
For over 25 years, we have provided Nashville, TN and the surrounding areas with professionally designed decks, pergolas, trellises and covered porches, along with arbors, pool/spa decks and other specialty structures for your home, garden and business. For all your outdoor deck design and construction needs, contact Edd Smith at Deck Designs of Brentwood™ and let his team of talented craftsmen help turn your outdoor vision into a reality.
Custom Deck Design
All of our decks are custom designed to blend with your home's style and natural surroundings. This enhances the aesthetic appeal, creates minimal landscape disturbance, and adds to the convenience and functional uses of your deck. We've been building decks in the the greater Nashville, TN area for years. If you're looking for a top quality, custom built and designed deck in Nashville, then you're at the right site. We can build out of literally any material you specify. Ask about the hidden fastener systems that minimize visible screw holes.
Whether you are looking for a stand-alone deck, or you would like to add a custom design deck as an add-on to your home, we will work with you to come up with the best design deck possible for your home or business.
Pergolas, Arbors & Trellises
The beauty of a handcrafted pergola is that it is open to the air while providing partial shade and privacy. Of course, a pergola is also is a magnificent architectural presence. Whether you choose to define an entrance or outdoor room, our craftsmen will work with you to customize your pergola exactly to your taste preferences.
Add a unique look with an elegant garden arbor. Post caps and accessories compliment and invite just enough creativity to suggest a personal touch. We believe that the structures your plants enjoy in the growing months should be enjoyed year round. Enjoy your new surroundings.
Trellises add that extra touch of elegance to your garden setting. Trellises are used to add a decorative accent to exterior walls. They can be functional, too, adding support to climbing flowers, grapes and swings. Add visual appeal and understated elegance to your home or garden with a new pergola, arbor or trellis.
Outdoor Living Room Additions, Screened Porches & Pool Cabanas
Exterior home additions are a task best left to a professional with a keen eye for quality materials and craftsmanship. In addition to the basic construction of your new outdoor space, Deck Designs of Brentwood™ is capable of creating the highest quality detail work, such as copper flashing, wrought iron details, natural stone masonry, matching existing trim and fascia, etc. Overall, we take a "complete picture" approach to your project, ensuring that your investment blends seamlessly with the new construction. Our goal is to make it look like it was always there, which we accomplish through strict superivision of the different trades brought in to complete your job.
All of our screened porches and outdoor living room additions are custom designed for your home. We work with your specific surroundings to create a custom deck style and appearance that integrate's into your home's architecture and the surrounding landscape. This enhances the aesthetic appeal, creates minimal landscape disturbance and adds to the convenience and functional uses of your new living space.
Pool & Spa Decks
Pool decks are an integral part of a swimming pool plan. In fact, you'll probably spend more time lounging around the swimming pool than you will in the water. A functional pool or spa deck will have lots of space for entertaining, sunbathing and hanging out. You'll probably want to design a deck that goes all the way around the swimming pool and is large enough to accommodate all of your furnishings, along with family and friends.
Some things to take into consideration when designing your pool deck are: materials (there are numerous materials appropriate for pool decks, so you can do something that is both functional and aesthetically pleasing to you), sun and shade (you may want your deck to be larger on the side that sees the most sunlight), and whether or not you need to incorporate a hot tub, outdoor kitchen/fireplace, grilling area, or space for other entertaining features.
Gazebos
A gazebo is a pavilion structure, sometimes octagonal, in parks, gardens, and spacious public areas. Consider it a welcoming oasis on your property on beautiful summer days. It's the perfect location for entertaining or enjoying a quiet moment. We will help you design the perfect custom gazebo for your lifestyle. Our unique, custom, hand-crafted gazebos will create a stunning focal point for any landscape. Gazebos are a perfect solution to create the additional outdoor living space you desire, from traditional Victorian to modern Japanese styles. Other uses include commercial applications and relaxing spa enclosures.
Our custom gazebos are constructed entirely by hand using premium grade materials, with every component engineered to exacting standards. The result is a product of incomparable beauty and structural integrity.
Bridges & Misc. Outdoor Structures
Deck Designs of Brentwood has the professional skills and experience to create a site specific solution for your exact requirements. Our extensive range of accessories and finish options allows us to provide you with a customized bridge design for each application. We can adapt standard bridge designs to suit the specific application or if necessary we can design and manufacture a custom solution to suit more unusual needs.
We can design and build custom decorative bridges for a variety of architectural applications, such as parks and other public areas in and around Nashville—you will find our work at the Nashville Grassmere Zoo and Shelby Bottoms Greenway, and in the surrounding suburbs of Brentwood, Franklin and Cool Springs. Built to last, these custom bridges are a fine addition to any environment for years to come.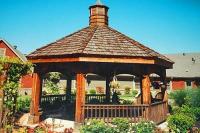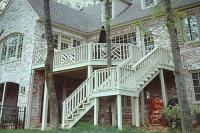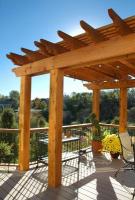 Business Location:
Deck Designs of Brentwood
37211
Nashville
,
TN