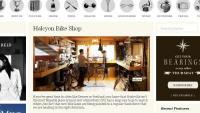 Halcyon Bike Shop is a worker owned and operated used bicycle shop in the 12 South District of Nashville, TN. We are committed to serving all of Nashville with quality products and service at affordable prices.
At the core of Halcyon Bike are recycled and restored custom used bikes. Every year, Americans throw away used bicycles and spend thousands of dollars on new bicycles. At Halcyon Bike, we find these thrown out bikes, restore and customize them, and sell them to you at a fraction of the price of most new bikes. Select used frames are also available at Halcyon Bike; we will help you build a frame into a beautiful custom bicycle. Halcyon Bike also has a full bike service and repair shop, committed to providing the best service and experience for both bicycle and customer.
Everyone at Halcyon shares a passion for bikes. That is why we strive to serve all types of riders, bicycles, and interests. To help others who share our passion, Halcyon provides a community work bench that anyone is welcome to use. Here you will find a full set of tools and work stands, everything you need to repair your bicycle on your own. We are also the only place in Nashville to rent bikes; we have 3-Speed City Bikes and tandems available!
Neighborhood:
--Downtown
Downtown Nashville