Nashville Historic Homes and Locations Guide
Nashville and middle Tennessee is full or rich American History, from the Antebellum Homes to Civil War battlegrounds. Just walk the streets downtown and enjoy the ornate architecture of buildings that date back to late 19th century.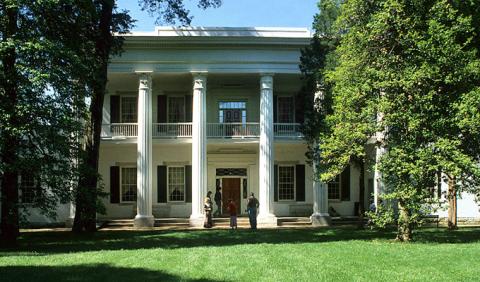 The Hermitage - Home of Andrew Jackson
Visit the historic home of the 7th US President Andrew Jackson - The Hermitage. Learn about his life and how he influenced our political structure. There is also a great love story with him and his wife Rachel. The historic home and grounds are a must for history buffs as well as school age children.
Nashville Historic Homes & Locations
The John Seigenthaler Pedestrian Bridge, formerly the Shelby Street Pedestrian Bridge, connects downtown Nashville to the residential suburbs of East Nashville. It was built from 1907-09 and was originally named the Sparkman Street Bridge.
Opened in 1822, the City Cemetery is the oldest continuously operated public cemetery in Nashville. The Nashville City Cemetery in an outstanding outdoor museum focusing on the history of Middle Tennessee.

Visit the Tennessee home of our 11th US President James K Polk, just south on Nashville in Columbia Tennessee. Guests to the James K.
James K. Polk Home and Museum
38401
Columbia
,
TN
During our summer hours (May 24 to Sept 30) The Buchanan Log House is open for tours on Tuesdays and Thursdays from 10:00 – 2:00 and on the 4th Sunday from 1:00 – 5:00. for a small fee, no appointment necessary.
Buchanan Log House and Addison Museum
37214
Nashville
,
TN
Tours go year round, weather permitting.
Our Tours Bring History To Life!
WHERE DO WE MEET?
Classic Franklin, Haunted Franklin, Murder and Mayhem and Civil War tours: 305 Public Square (in front of old courthouse, next to Mellow Mushroom restaurant)
Bring history to life for your family by visiting The Lotz House in Franklin Tennessee. Check their calendar for the popular Walking Battlefield Tour and Lotz House Cellar Tour. Also Guided Tours of the Lotz House are available.
Lotz House Museum
37064
Franklin
,
TN
Pages