Patios and Decks
Nashville Patios and Decks
Nashville Patios and Decks are a place for the entire family to enjoy. Decks and patios are places for the family to gather and spends lazy afternoons. There is nothing quite as good as cooking some good BBQ on the deck with the family. Nashville and Middle Tennessee residents are fortunate to have good weather for outdoor living as well as great yards for custom designs. Sometimes you want to refocus from a neighboring home and sometimes you want to enhance the view from the back of your house. Local contractors will be happy to share their knowledge and expertise on what designs will work best for your custom deck.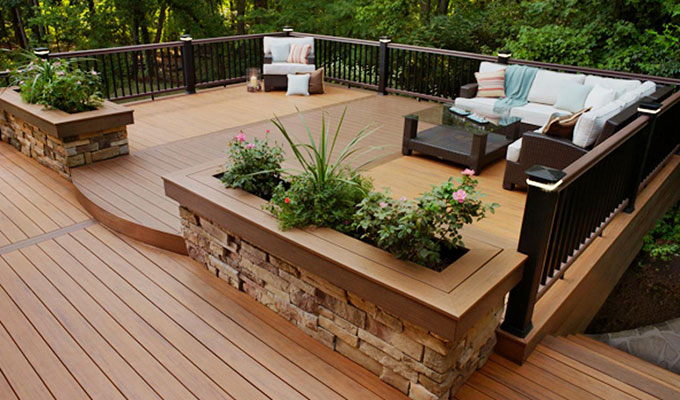 Enhance your outdoor living space
Adding a deck, patio or pergola to the back of your home will enhance your family's outdoor living and it is great for the resale value of your home. There are many options on size and levels that will fit great with your home and yard.
Patios and Decks
Design your own or work with one of our designers to create a deck that expresses your personality and taste. Bring the Outdoors inside with a beautiful addition.
Sundek of Nashville has been serving the great state of Tennessee as a nationally recognized decorative concrete resurfacing company since 1984.
We are locally owned and operated and provid an extensive list of cleaning and sealing services for both Residential and Commercial Clients.
Hydro-Pro Pressure Washing & Roof Cleaning Nashville
Nashville
,
TN
Clinard Home Improvement was started in 1958 by the Clinard Family. Their business primarily focused on gutter sales and installation. In 1994, Clinard was purchased by Dick Moore and Bill Tisdale.
Clinard Home Improvement
37207
Nashville
,
TN
Outdoor Woodworks is a locally owned and operated company servicing Nashville and the Middle Tennessee area.
Outdoor Woodworks, LLC
37115
Nashville
,
TN
Banzai Bobs Pools & Spa's is a showcase builder for Pacific Pools. Bob enjoys the challenge of harnessing water and believes the Pacific Pools System reflects current technology in pool construction.
Banzai Bob Pool & Spa
37090
Lebanon
,
TN
For over 25 years, we have provided Nashville, TN and the surrounding areas with professionally designed decks, pergolas, trellises and covered porches, along with arbors, pool/spa decks and other specialty structures for your home, garden and bus
Deck Designs of Brentwood
37211
Nashville
,
TN