SIGHTSEEING TOURS & TOUR GUIDES
Nashville Sightseeing Tours: Walking and Driving
Top Nashville Tours and Tour Companies to help you find the best of Nashville sightseeing and attractions. Group and individual sightseeing tours will help you pack in everything Music City has to offer. We recommend booking a tours with the Nashville Touring Companies at the beginning for your trip so you have time to go back and visit sites that most interest you. Come to think of it, we also recommend you make your Nashville Vacation a long one so you can fit in everything to see and do! Enjoy Life Nashville Life!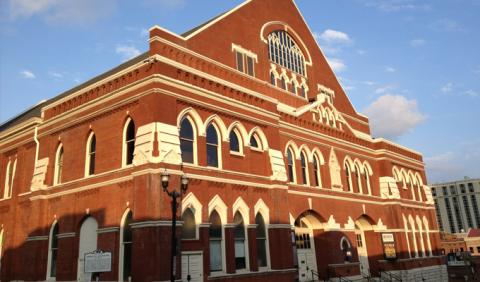 World Famous Ryman Auditorium
You cannot visit Nashville without touring the birthplace of Country Music.
Established in 1892 as the Union Gospel Tabernacle, Ryman Auditorium is a National Historic Landmark and must see for any Nashville visitor. Most famous as the home of the Grand Ole Opry from 1943 — 1974, there is far more to the story of Music City's most recognizable icon. Take a Self-Guided or Guided Backstage tour and discover what makes the Ryman, the "Soul of Nashville."  Tours the Historic Ryman Auditoriam daily from 9 AM to 4 PM.
Nashville Tours: Walking and Driving
Have you ever fallen asleep at a museum? Or thought your tour guide was too big for his britches?
Home Office
4117 Hillsboro Pike Suite 103-101
37214
Nashville
,
TN
The Parthenon is the centerpiece of Centennial Park, a large public park on Westend Aveue in downtown Nashville.
Centennial Park
37203
Nashville
,
TN
Hank, Johnny, Chet, Patsy, George, Tammy, Conway, Loretta, Dolly, Merle, Willie... there was a time when country music was on a first name basis with its fans.
Belle Meade is dedicated to the preservation of Tennessee's history, architecture, hospitality, and equestrian legacy.
Belle Meade Plantation
27205
Nashville
,
TN
Phone:
(615) 356-0501 ext. 125
River Queen Voyages is downtown Nashville's first and only kayak rental and tour company on the Cumberland River. See the city from a whole new point of view!
It is our great pleasure to make your event unforgettable!! Sugar Creek Creek carriages has a large variety of luxurious, finely detailed classy horse-carriages.
Schakolad dates back to 1969 with experiences throughout Europe and South America. For the past 13 years, the family owned and operated Franklin location has served up European style chocolates as well as custom and engraved chocolates.
Schakolad Chocolate Factory
443 Cool Springs Boulevard Ste 107
37067
Franklin
,
TN
Come explore Rock Castle State Historic Site and discover the 18th century home of General Daniel Smith, the man who named the state of Tennessee.
Rock Castle State Historic Site
37075
Hendersonville
,
TN
Visit the Tennessee home of our 11th US President James K Polk, just south on Nashville in Columbia Tennessee. Guests to the James K.
James K. Polk Home and Museum
38401
Columbia
,
TN
During our summer hours (May 24 to Sept 30) The Buchanan Log House is open for tours on Tuesdays and Thursdays from 10:00 – 2:00 and on the 4th Sunday from 1:00 – 5:00. for a small fee, no appointment necessary.
Buchanan Log House and Addison Museum
37214
Nashville
,
TN
Pages