Nashville Music Attractions
Music Attractions in Nashville Tennessee
Nashville Music Attractions are plentiful, Start with booking your tickets for the Grand Ole Opry every Friday and Saturday night you will see the brightest new stars and the legends of Country Music. Brush up on your Country Music history by visiting the Country Music Hall of Fame, the Ryman (original home of the Opry), and the Johnny Cash Museum all in downtown Nashville. Hear upcoming stars and songwriters at the Bluebird Cafe(arrive early), Tootsies Orchard Lounge or any club on Nashville's Famous downtown strip. Enjoy!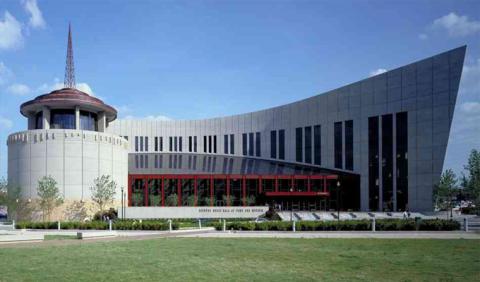 The Country Music Hall of Fame and Museum
The Country Music Hall of Fame and Museum is one of the world's largest and most active popular music research centers and the world's largest repository of country music artifacts. In 2001 they moved into a huge facility in the heart of Nashville's Arts & Entertainment district downtown. This is a must see for all music lovers. Today the museum includes Taylor Swift Education Center, and multi-purpose event rental spaces, and a 776-seat CMA Theater for events that include some of the biggest names in Country Music history.
Nashville Music Attractions
Welcome to The Grand Ole Opry at Opry House
Grand Ole Opry House
37214
Nashville
,
TN
Phone:
(615) 871-OPRY, 800-987-9852
The best bands, food and fun from street to the rooftop! The biggest baddest Honky Tonk on Broadway! When you visit Kid Rock's Honky Tonk you should take the time and walk through the whole place.
Kid Rock's Big Honky Tonk and Rock n' Roll Steakhouse
37201
Nashville
,
TN
The Wildhorse Saloon is Nashville's #1 Dining and Entertainment destination and a mecca of entertainment in America.
Wildhorse Saloon
37201
Nashville
,
TN
One of the city's most famous honky tonks, Tootsie's Orchid Lounge is full of historic memorabilia and hosts some of the best live musical acts in Nashville. Check out their rooftop deck to view downtown Nashville.
Tootsies World Famous Orchid Lounge
37203
Nashville
,
TN
Welcome to Nashville's Friendliest Guitar Store and welcome to the new Carter Vintage Guitars website. We're confident you'll find it faster and easier to navigate.
Carter Vintage Guitars
37203
Nashville
,
TN
The Bluebird Café is one of the world's preeminent listening rooms and the venue has gained worldwide recognition as a songwriter's performance space where the "heroes behind the hits" perform their own songs; songs that have been recorded by char
Located in the heart of the very trendy Gulch warehouse district, Sambuca in Nashville is a rockin' supper club that features live music, an eclectic European design and a roof top patio that overlooks the Nashville Skyline.
Sambuca Restaurants
37203
Nashville
,
TN
When you step into the Country Music Hall of Fame and Museum, you will be embarking on a trip through decades of country music history in this architecturally-stunning building.
Country Music Hall of Fame and Museum
37203
Nashville
,
TN
Smack dab in the middle of Nashville's Honky-Tonk Highway on Lower Broadway, Layla's is in a section of downtown famous for live country music.
Downtown Nashville museum dedicated to the life and music career of the late "Man in Black" featuring 18,000 square feet of memorabilia, interactive exhibits and a 250-seat auditorium.
Established in 1892 as the Union Gospel Tabernacle, Ryman Auditorium is a National Historic Landmark. Most famous as the home of the Grand Ole Opry from 1943 —1974, there is far more to the story of Music City's most recognizable icon.
Ryman Auditorium
37219
Nashville
,
TN
The Listening Room is a venue where you can be entertained and inspired.
The Listening Room
37210
Nashville
,
TN
Murfreesboro Symphony Orchestra is the cultural heartbeat of the community, providing professional classical, pops, and youth education music programming for the Middle Tennessee area.
Murfreesboro Symphony Orchestra
37130
Murfreesboro
,
TN
Honky Tonk Central is Nashville's latest and greatest honky tonk legendary Lower Broadway. 3 stories (that's right 3 STORIES) of live music, great food and the best time in Nashville!
Located in the heart of Music City USA in the historic Lower Broadway District and in the shadow of the Mother Church of Country Music (The Ryman Auditorium), Robert's Western World is Nashville's undisputed home of traditional country music.
Robert's Western World
37203
Nashville
,
TN
The Second Fiddle in downtown Nashville, one step inside this Lower Broadway Honky-Tonk and you know you're in Nashville. This is what you imagined Nashville to be, great country music, live entertainment and friendly people.
Nashville's first fully operational winery, City Winery Nashville produces and serves house wines from grape varieties sourced from the finest vineyards around the world including California, Oregon, Washington State and as far south as Argentina.
Pages