Nashville Venues for Large Weddings
With a large wedding (usually over 250 guest) you alleviate the stress of who to invite and leave off the list but you better plan on having a big budget. Today it is not uncommon for the bride and groom to pay for the wedding themselves but if you want to have a large wedding party it might still be nice to let your parents contribute.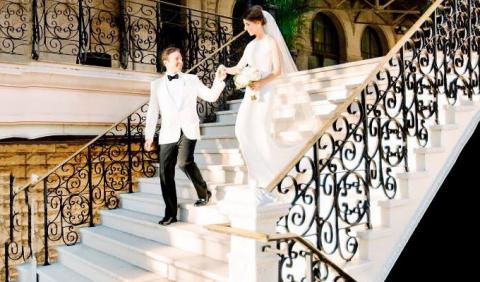 Elegant Weddings at the Historic Union Station Hotel
As one of the most desirable wedding destinations in Nashville, the Historic Union Station Hotel. Offering more than just a beautiful setting for your special day – it also provides an unparalleled level of service and culinary artistry that will make your celebration utterly unforgettable. Create lasting memories at a legendary Nashville wedding venue with the storied charm of the Victorian age.
Photo credit: Leslee Mitchell Photography.
Nashville Large Wedding Venues
Omni Nashville Hotel offers stunning views of the city of Nashville and is walking distance to many attractions like the County Music Hall of Fame.
Omni Nashville Hotel
37203
Nashville
,
TN
On the banks of the Cumberland, the awe-inspiring Gaylord Opryland invites you to experience all of the energy and excitement of Nashville, Music City USA! You'll marvel at their 9-acres of indoor gardens and cascading waterfalls.
Gaylord Opryland Hotel
37214
Nashville
,
TN
The Hermitage Hotel in Downtown Nashville: Easy Going Elegance, Five Star Luxury
The Hermitage Hotel
37219
Nashville
,
TN
Our picturesque 1830′s antebellum farm estate exudes country charm and offers breathtaking backdrops for the most romantic event of your life – your wedding.
Historic Cedarwood
37207
Nashville
,
TN
The world famous Milky Way Farms on Route 31, south of Nashville, has some of the most scenic, fertile land in Middle Tennessee.
To create the perfect atmosphere for your occasion, you'll need to select the right setting. Schermerhorn Symphony Center offers numerous options, each readily adaptable to your needs.
Schermerhorn Symphony Center
37201
Nashville
,
TN
The Hermitage is a historical plantation and museum was home to Andrew Jackson the 7th President to the United States.
When in Nashville do what the locals do…Pass the Peas..Please! Great Southern Food served Family Style in Historic Settings. Skillet Fried Chicken, Green Beans, Cheese Grits, Cornbread, Biscuits and gravy, pork chops, pot roast.
Cheekwood Museum and Gardens
37205
Nashville
,
TN
Welcome to the world of the 18th century viewed through the life of General Daniel Smith, surveyor, Revolutionary War hero, U.S. Senator, Indian Negotiator and original owner and builder of his family home: Historic Rock Castle!
Historic Rock Castle
37075
Hendersonville
,
TN
Pages