Guide to Live Music in Nashville
Finding Live Music in Nashville Tennessee
Looking for Live Music in Nashville? Start in Downtown Nashville where live music is in every bar and honky-tonk down Nashville's famous strip of 2nd Avenue and Broadway, There are bars for drinking, bars for dancing, and bars for eating. Everything you would want from bright neon lights to more dimly lit ambient acoustic places can be found in Nashville. Printers Alley is full of clubs with the live music. One of the unique things about Nashville is the abundance of amazing live music.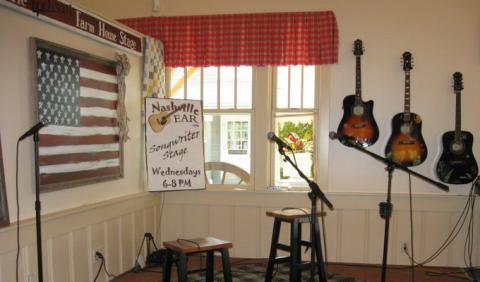 Songwriter Stages
Nashville is the perfect place to hear professional songwriters sing both their old and new songs.
Live Music Everywhere!
Many bars and restaurants have live music venues for their customers 24/7. The Grand Ole Opry can be seen live every Friday and Saturday evening at the Opry House, The Bridgestone Arena has huge music star events and hundreds of shows year round. The city of Nashville holds many events including live music concerts at the Riverfront Park for residents and tourist to enjoy in the spring and summer. Nashville is a town that has many live music events going on each and every weekend. If you like live music you have found the right town Music City.
Nashville Live Music
Welcome to Swingin' Doors Saloon! We are located in beautiful and historic downtown Nashville Tennessee right off of Broadway at 111 4th Ave S (right behind the Hilton).
Smack dab in the middle of Nashville's Honky-Tonk Highway on Lower Broadway, Layla's is in a section of downtown famous for live country music.
We are 1st and fore most a live music venue that has music Monday, Wednesday, Thursday & Friday and some Saturdays so come check all the different themed events we do.
PUCKETT'S GROCERY & RESTAURANT
Where the main ingredients are Real Food, Real People and Real Atmosphere
Puckett's Grocery and Live music venue
Franklin
,
TN
Tennessee is all about the music, from the blues of Memphis to the the bluegrass music of East Tennessee and you cannot miss the famous Country Music stages in Nashville and Middle Tennessee where live music can be heard any day or night in tons o
Rocketown was founded in 1994 by Michael W. Smith. The first of its kind in the Southeast, Rocketown has grown into a regional outreach as well as a model for Christian-based relational outreach across the country.
The Listening Room is a venue where you can be entertained and inspired.
The Listening Room
37210
Nashville
,
TN
Home of East Nashville Underground, Comedy Mafia, YES MA'AM, Fringe Festival, Rock shows, Dance parties...
Located in the heart of Music City USA in the historic Lower Broadway District and in the shadow of the Mother Church of Country Music (The Ryman Auditorium), Robert's Western World is Nashville's undisputed home of traditional country music.
Robert's Western World
37203
Nashville
,
TN
Honky Tonk Central is Nashville's latest and greatest honky tonk legendary Lower Broadway. 3 stories (that's right 3 STORIES) of live music, great food and the best time in Nashville!
Pages
Live Music from NashvilleEar.com
Nashville Ear - it's all about the song!
Nashville Ear where songwriters come to have their songs promoted to the world. With thousands of online videos many Nashville songwriters wait to be features on stages with Jeremy Dean to get in front of an online audience. Many Nashville Ear songwriters have been seen on The Voice. Follow this link to hear and see more on their shows.