Guide to Live Music in Nashville
Finding Live Music in Nashville Tennessee
Looking for Live Music in Nashville? Start in Downtown Nashville where live music is in every bar and honky-tonk down Nashville's famous strip of 2nd Avenue and Broadway, There are bars for drinking, bars for dancing, and bars for eating. Everything you would want from bright neon lights to more dimly lit ambient acoustic places can be found in Nashville. Printers Alley is full of clubs with the live music. One of the unique things about Nashville is the abundance of amazing live music.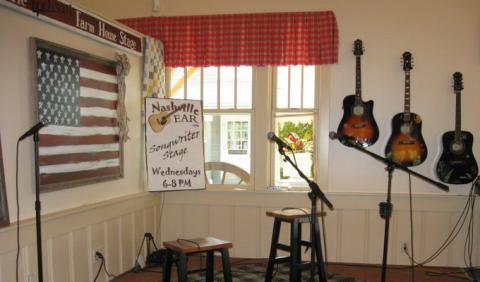 Songwriter Stages
Nashville is the perfect place to hear professional songwriters sing both their old and new songs.
Live Music Everywhere!
Many bars and restaurants have live music venues for their customers 24/7. The Grand Ole Opry can be seen live every Friday and Saturday evening at the Opry House, The Bridgestone Arena has huge music star events and hundreds of shows year round. The city of Nashville holds many events including live music concerts at the Riverfront Park for residents and tourist to enjoy in the spring and summer. Nashville is a town that has many live music events going on each and every weekend. If you like live music you have found the right town Music City.
Nashville Live Music
The Valentine Nashville, an original concept from the South Capital Partners restaurant group is an upscale saloon with a 1920s and 30s Prohibition-era vibe.
Originally built in the early 1900s, Marathon Music Works has been restored and adapted to produce a wide array of live music experiences and special events.
Authentic jazz experience in Music City USA.
A Live Music Joint with amazing food & drinks! We feature live music from 11 AM-3 AM every single day! Check us out on historic Lower Broadway!
A BEER JOINT WITH A MUSIC PROBLEM.

Twelve Keys Saloon
37076
Hermitage
,
TN
Sinatra Bar & Lounge is an intimate and elevated dining experience located on the first level of the historic Southern Turf Building, offering a Manhattan meets Palm Springs ambiance featuring classic Italian dishes, craft cocktails and live m
Southern Turf building
37219
Nashville
,
TN
Skull's Rainbow Room is located in the basement of the legendary Southern Turf Building (Printers Alley entrance)
Skull's Rainbow Room
37219
Nashville
,
TN
Pages
Live Music from NashvilleEar.com
Nashville Ear - it's all about the song!
Nashville Ear where songwriters come to have their songs promoted to the world. With thousands of online videos many Nashville songwriters wait to be features on stages with Jeremy Dean to get in front of an online audience. Many Nashville Ear songwriters have been seen on The Voice. Follow this link to hear and see more on their shows.