Guide to Live Music in Nashville
Finding Live Music in Nashville Tennessee
Looking for Live Music in Nashville? Start in Downtown Nashville where live music is in every bar and honky-tonk down Nashville's famous strip of 2nd Avenue and Broadway, There are bars for drinking, bars for dancing, and bars for eating. Everything you would want from bright neon lights to more dimly lit ambient acoustic places can be found in Nashville. Printers Alley is full of clubs with the live music. One of the unique things about Nashville is the abundance of amazing live music.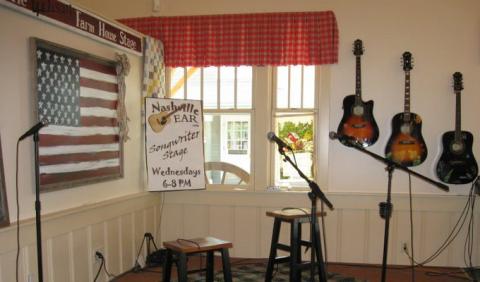 Songwriter Stages
Nashville is the perfect place to hear professional songwriters sing both their old and new songs.
Live Music Everywhere!
Many bars and restaurants have live music venues for their customers 24/7. The Grand Ole Opry can be seen live every Friday and Saturday evening at the Opry House, The Bridgestone Arena has huge music star events and hundreds of shows year round. The city of Nashville holds many events including live music concerts at the Riverfront Park for residents and tourist to enjoy in the spring and summer. Nashville is a town that has many live music events going on each and every weekend. If you like live music you have found the right town Music City.
Nashville Live Music
Home of East Nashville Underground, Comedy Mafia, YES MA'AM, Fringe Festival, Rock shows, Dance parties...
Located in the heart of Music City USA in the historic Lower Broadway District and in the shadow of the Mother Church of Country Music (The Ryman Auditorium), Robert's Western World is Nashville's undisputed home of traditional country music.
Robert's Western World
37203
Nashville
,
TN
Honky Tonk Central is Nashville's latest and greatest honky tonk legendary Lower Broadway. 3 stories (that's right 3 STORIES) of live music, great food and the best time in Nashville!
Anyone who has seen a show at 12th & Porter will probably tell you it is one of the best sounding rooms in Nashville.
The Second Fiddle in downtown Nashville, one step inside this Lower Broadway Honky-Tonk and you know you're in Nashville. This is what you imagined Nashville to be, great country music, live entertainment and friendly people.
Nashville's first fully operational winery, City Winery Nashville produces and serves house wines from grape varieties sourced from the finest vineyards around the world including California, Oregon, Washington State and as far south as Argentina.
The legendary Nashville Palace, once the home of the stars of The Grand Ole Opry and television shows such as Hee Haw and Nashville Now near Opryland, is now owned and operated by Jesse Lee Jones, the proprietor of Robert's Western World, the "Hom
The Nashville Palace
37214
Nashville
,
TN
Ascend Amphitheater located near Riverfront Park in downtown Nashville.
The 2015 'SHE HYPE' Summer Music Series is a live music event that takes place monthly from May to August at The Contemporary Music Center (pictures attached) in Brentwood, TN.
The 5 Spot is East Nashville's live music venue and Musician's Hangout in East Nashville. We have multiple acts every Tues, Wed, Thurs, Fri, Sat, Sun... dance party every Monday night
Pages
Live Music from NashvilleEar.com
Nashville Ear - it's all about the song!
Nashville Ear where songwriters come to have their songs promoted to the world. With thousands of online videos many Nashville songwriters wait to be features on stages with Jeremy Dean to get in front of an online audience. Many Nashville Ear songwriters have been seen on The Voice. Follow this link to hear and see more on their shows.