Nashville Leisure Time: Clay & Pottery Classes
Clay & Pottery Classes in Nashville Tennessee
Whether it's a birthday party, a work event, or just a get together with friends and family Pottery Classes are a great way to spend some quality time enjoying and unique activity.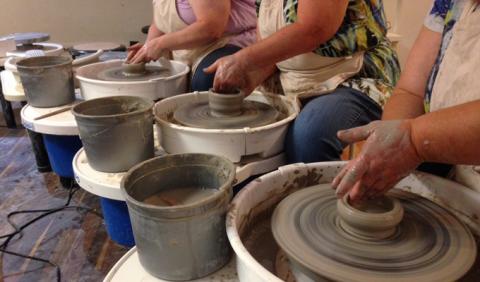 Clay & Pottery Classes
The Studio is a 3,000 square foot facility designed to encourage all facets of clay creativity. Offering classes in low-fire, mid-fire, and C/10 gas and wood fire, we have 3 separate studios dedicated to pottery, hand-building, and sculpting.
Mid-South Ceramic Supply
37210
Nashville
,
TN
A Contemporary Pottery Painting Studio where we help you put the 'ART' in Party! Come join us and create priceless gifts that are great for all ages.
Fired Up Pottery Studio
37122
Mt Juliet
,
TN
Make Nashville runs Music City's first all-ages nonprofit Makerspace and Maker Faire.