Nashville Music Attractions
Music Attractions in Nashville Tennessee
Nashville Music Attractions are plentiful, Start with booking your tickets for the Grand Ole Opry every Friday and Saturday night you will see the brightest new stars and the legends of Country Music. Brush up on your Country Music history by visiting the Country Music Hall of Fame, the Ryman (original home of the Opry), and the Johnny Cash Museum all in downtown Nashville. Hear upcoming stars and songwriters at the Bluebird Cafe(arrive early), Tootsies Orchard Lounge or any club on Nashville's Famous downtown strip. Enjoy!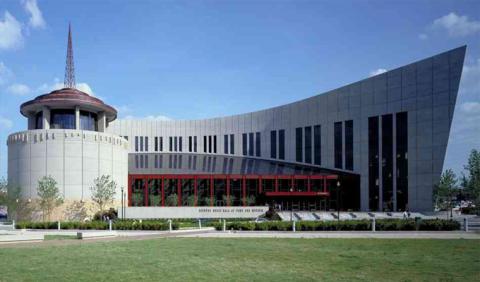 The Country Music Hall of Fame and Museum
The Country Music Hall of Fame and Museum is one of the world's largest and most active popular music research centers and the world's largest repository of country music artifacts. In 2001 they moved into a huge facility in the heart of Nashville's Arts & Entertainment district downtown. This is a must see for all music lovers. Today the museum includes Taylor Swift Education Center, and multi-purpose event rental spaces, and a 776-seat CMA Theater for events that include some of the biggest names in Country Music history.
Nashville Music Attractions
Spanning more than 44,000 square feet, the George Jones Museum features displays of memorabilia and photos, video displays and interactive experiences.
George Jones Museum
37201
Nashville
,
TN
Ascend Amphitheater located near Riverfront Park in downtown Nashville.
As the home of one of the best music scenes in the country, there's no better place for a Hard Rock Cafe than Music City, U.S.A.
The Music City Walk of Fame on Nashville's Music Mile is a landmark tribute to those from all genres of music who have contributed to the world through song or other industry collaboration and made a significant contribution to the music industry
For 90 years 650 AM WSM has been a leader in Country Radio.
Visit us at 650 AM or worldwide at WSMOnline.com.
Originally built in the early 1900s, Marathon Music Works has been restored and adapted to produce a wide array of live music experiences and special events.
Authentic jazz experience in Music City USA.
During our summer hours (May 24 to Sept 30) The Buchanan Log House is open for tours on Tuesdays and Thursdays from 10:00 – 2:00 and on the 4th Sunday from 1:00 – 5:00. for a small fee, no appointment necessary.
Buchanan Log House and Addison Museum
37214
Nashville
,
TN
When visiting the CabaRay, guests will immediately experience Ray's attention to every detail: the impressive custom lighting piece in the lobby, the built-in trophy cases displaying memorabilia from Ray's iconic career, and the elegant crystal ch
The Musicians Hall of Fame & Museum honors all musicians regardless of genre or instrument.
Musicians Hall of Fame and Museum
37219
Nashville
,
TN
A Live Music Joint with amazing food & drinks! We feature live music from 11 AM-3 AM every single day! Check us out on historic Lower Broadway!
Sinatra Bar & Lounge is an intimate and elevated dining experience located on the first level of the historic Southern Turf Building, offering a Manhattan meets Palm Springs ambiance featuring classic Italian dishes, craft cocktails and live m
Southern Turf building
37219
Nashville
,
TN
Skull's Rainbow Room is located in the basement of the legendary Southern Turf Building (Printers Alley entrance)
Skull's Rainbow Room
37219
Nashville
,
TN
Pages